A Mississippi State faculty member specializing in behavioral sleep issues is using a national platform this Sunday [May 17] to discuss nightmares induced by the COVID-19 pandemic.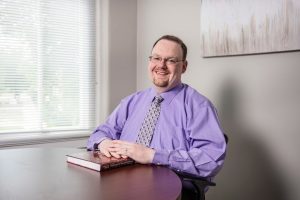 "CBS Sunday Morning," airing from 8-10:30 a.m., will interview Michael R. Nadorff, an associate professor in MSU's Department of Psychology, on his thoughts and expertise related to the global pandemic and its effect on sleep patterns, specifically dreams. Nadorff directs the university's Sleep, Suicide and Aging Laboratory and also leads the department's clinical Ph.D. program.
Nadorff said he views odd or disturbing COVID-related dreams "as being related to anxiety, stress, and rumination," and points to a hypothesis called activation-synthesis for his reasoning. 
"Basically, the hypothesis states that during dreams a lot of brain activation occurs, in part because you have a lot of memory consolidation occurring during REM sleep. It is one of the prime times for your memories to be stored in long-term memory," Nadorff said. "A few things are happening at the same time—old memories are being pulled up and refreshed, and new memories are being encoded. Your brain tries to put this together in a story that makes sense. This is why you can have dreams where something that happened yesterday gets blended with something that happened 20 years ago."
Nadorff said during the quarantine period people have encountered new worries and anxieties, which are impacting dreams. 
"Our lives are different now, and many of us feel like we are living the same day over and over again," Nadorff said. "Because of this, the things that are notable, the things that are different, stand out more, and those may be the latest news headlines, or the latest worries."
Nadorff said it is not surprising to see these new coronavirus-related concerns appear in dreams.
"These are to be expected given the trauma that we are experiencing, and the worries and anxieties that many of us have," he explained. "Doing things to help reduce these worries and anxieties, such as relaxation exercises (e.g. deep breathing), trying not to worry about the things we cannot control, and limiting news consumption can help, as can maintaining a more normal sleep schedule."
Nadorff currently serves on the board of directors for the Society of Behavioral Sleep Medicine where he is a member of a COVID-19 task force currently writing a paper on sleep advice and guidance during the pandemic.  
Nadorff is a licensed psychologist on the Behavioral Sleep Medicine roster of practitioners in Mississippi. Based in Lexington, Kentucky, the Society of Behavioral Sleep Medicine is an interdisciplinary organization committed to advancing the scientific approach to studying the behavioral, psychological and physiological dimensions of sleep and sleep disorders and the application of this knowledge to the betterment of individuals and societies worldwide.
For more, visit https://www.behavioralsleep.org.
Nadorff holds a bachelor's degree in psychology and computer applications from the University of Notre Dame, along with master's and doctoral degrees in clinical psychology from West Virginia University. He also completed a doctoral internship at the Baylor College of Medicine.
At MSU, Nadorff's research interests include assessment and treatment of suicidal behavior, behavioral sleep medicine—particularly assessment and interventions for insomnia and nightmare disorders—and the use of technology for psychological treatment.
Nadorff is a 2017 recipient of the Art Spielman Early Career Distinguished Achievement Award from the Society of Behavioral Sleep Medicine.
The Department of Psychology is part of MSU's College of Arts and Sciences, which includes more than 5,200 students, 325 full-time faculty members, nine doctoral programs, 14 master's programs, and 27 undergraduate academic majors offered in 14 departments. The college also is home to the most diverse units for research and scholarly activities, including natural and physical sciences, social and behavioral sciences, and the humanities.
Complete details about the College of Arts and Sciences or the Department of Psychology may be found at www.cas.msstate.edu or www.psychology.msstate.edu 
Stay up to date with all of Mississippi's latest news by signing up for our free newsletter here. 
Copyright 2023 SuperTalk Mississippi Media. All rights reserved.