Several Mayors from Mississippi's Gulf Coast spent time at the White House this week expressing their concerns regarding the impact of the intrusion of freshwater from the Bonnet Carré Spillway.
The group of Mayors met with representatives from the Trump Administration, the U.S. Army Corps of Engineers, the National Security Council, the Department of Commerce along with executive staff from the offices of Senator Roger Wicker and Congressman Steven Palazzo.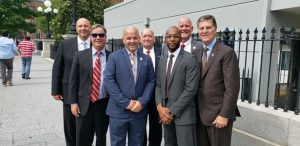 Pascagoula Mayor Dane Maxwell coordinated the meeting. He and Gilich were joined by mayors Mike Smith of Waveland, George Bass of Long Beach and Mario King of Moss Point. Also attending were D'Iberville City Manager Clay Jones, Councilman Myles Sharp of Gulfport and Alderman Donald Frazer of Long Beach.
"We're suffering from extremely low salinity levels in the Sound and the loss of sustainable habitat," Gilich said. "And we're worried about the possible impact on our thousands of hotel rooms and tourism amenities."
Gilich presented the Corps with a Biloxi booklet outlining the latest salinity measurements across the Sound, historic flow charts of Louisiana spillways, satellite imagery of freshwater intrusion and an executive summary underscoring ongoing fisheries impacts and mammal deaths. The Mississippi Department of Marine Resources and the Gulf Coast Research Laboratory provided the latest information used in the booklet.
Federal officials acknowledged the severity of the problem and promised to work with Coast leaders and State and congressional officials to accurately gauge all impacts and identify potential solutions.
"We will work with local agencies to study comprehensive impacts, get a clear picture of all issues and consider appropriate solutions," said Gib Owen, Assistant Secretary of the Army Civil Works.
Mayor Maxwell asked for ongoing meetings with all stakeholders on the local, state and federal levels. Mayor Bass and Mayor Smith urged federal officials to come to the Coast and see firsthand what is happening, and to also focus on the plight of local fishermen, crabbers, shrimpers and charter boat operators all of whom are being economically injured by the ongoing assault on Sound fisheries.