A coalition of Mississippi Gulf Coast leaders is coming together to raise awareness and advocate for suicide prevention strategies.
Data compiled by the Centers for Disease Control (CDC) shows that the number of suicides in Mississippi reached a 20-year high in 2021 with 480 people taking their lives. A collaborative effort is now in place on the coast to work to prevent these deaths — especially among teenagers.
On October 27, the Singing River Foundation, Singing River Health System, Pascagoula-Gautier School District, and the Jackson County Chamber of Commerce are inviting influential figures in the area to attend a high school health summit at Pascagoula High School's performing arts center.
The program, which will be led by keynote speaker Emma Benoit, will begin at 9 a.m. Benoit, a suicide attempt survivor, uses her story to help teenagers who are struggling with mental health.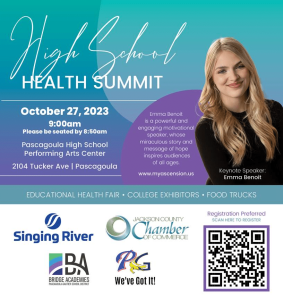 At 16 years old, Benoit attempted to end her life. For years, Benoit quietly struggled with anxiety and depression and was too ashamed to share her pain with family or friends. Now, though wheelchair-bound, Benoit is encouraging teenagers facing dark thoughts to open up to somebody about the challenges they're facing mentally.
Benoit also urges family and friends of teenagers to check up on them routinely because nobody truly knows what another person is going through if they never go below the surface.
"When I reflect back on my story, there are so many factors that pop up. One of the biggest factors for me was how intense and how intrusive those thoughts were," Benoit said on The Ricky Mathews Show.
"They led me to make a decision based on what were, at the time, temporary issues that could have been resolved by talk therapy and maybe even medication — that I was making a permanent decision. I feel like that is the message for someone actively suffering from these thoughts. It is a permanent solution to a temporary issue."
The coastal coalition is hopeful that Benoit's message will lead school districts to consider partnering with Hope Squad, a suicide-prevention organization dedicated to building emotionally stronger families and communities.
If you or someone you know is contemplating suicide or struggling with suicidal thoughts, help is available 24 hours a day through the Suicide and Crisis Lifeline at 988. You are not alone.
Stay up to date with all of Mississippi's latest news by signing up for our free newsletter here. 
Copyright 2023 SuperTalk Mississippi Media. All rights reserved.