NASA's Stennis Space Center has signed an enhanced use lease agreement with 3D-printed rocket company Relativity Space on the vertical test stand at the A-2 complex near Bay St. Louis.
The agreement marks the first time a commercial tenant has modernized an underutilized legacy test stand at Stennis, bringing Relativity's total footprint at the center to nearly 300 acres.
The A-2 Test Stand was constructed in 1966 to test and flight-certify the second stage of the Saturn V, the launch vehicle for the Apollo Program. It was then used for engine testing for the Space Shuttle Program until 2009.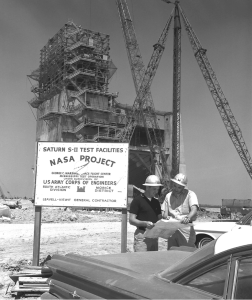 Briefly used for the Constellation Program between 2011 to 2014 before its cancellation, the A-2 stand has sat unused for nearly a decade.
Now, Relativity is planning to invest $267 million into Stennis and create hundreds of new jobs in the region by 2027 to support the Terran R program development and launch ramp rate.
"The A-2 Test Stand has a rich history for NASA and NASA Stennis," Dr. Rick Gilbrech, Director of NASA's Stennis Space Center, stated. "It has been the site for numerous milestone tests, including the Apollo Saturn S-II stage, space shuttle main engine, and Constellation J-2X engine test programs. It is exciting to see this historic structure continue to provide valuable propulsion service almost 60 years later."
The seven-year lease agreement is valued at a total of $2.76 million with an option to renew for up to an additional 10 years at the end of the original term.
The new infrastructure is expected to support advanced vertical first-stage testing for Relativity's medium-to-heavy lift reusable 3D-printed rocket, Terran R.
With a new stand, the company will be able to raise its cadence of testing, as well as use commodities and canal access at Stennis to increase the development of the new rocket.
Originally designed to withstand maximum thrust of 1.5 million pounds, the A-2 Test Stand is currently configured to endure thrust up to only 650,000 pounds.
With the new upgrades, the stand will be able to accommodate a thrust of over 3.3 million pounds – bringing A-2 back to the forefront of America's commercial space program.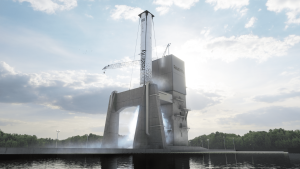 "Mississippi's economy is growing stronger every day thanks to Stennis Space Center and companies like Relativity," Governor Tate Reeves explained. "Our state is at the forefront of innovation, and we are helping to lead the way in commercial space technology. Congratulations to Relativity on this historic groundbreaking."
Relativity, which is based in Long Beach, California, was the first company in the world to fly a 3D printed rocket into space through the Terran 1 program on March 23, 2023.
The company originally partnered with Stennis in 2016 to test its Aeon 1 engine on the site's E-3 Test Stand.
The partnership quickly expanded, and Relativity now holds 10-year exclusive-use leases for the E-2 and E-4 stands, has a commercial use agreement for the E-1 site, and is building new engine and stage test infrastructure in the R Complex at NASA Stennis.
"New history is being written at Stennis Space Center as we breathe life into the historic A-2 Test Stand with our Terran R program," Tim Ellis, Co-Founder and CEO of Relativity Space, said. "The scale of Terran R as a medium-heavy lift reusable launch vehicle is substantial. Exclusive access to these rare, national-asset facilities through a partnership with NASA uniquely enables Relativity to develop a world-class launch vehicle."
Stay up to date with all of Mississippi's latest news by signing up for our free newsletter here. 
Copyright 2023 SuperTalk Mississippi Media. All rights reserved.