Mississippi U.S. Congressman Trent Kelly presented the Congressional Gold Medal this weekend to the family of U.S. Marine Corps Veteran Embra Jackson, Sr., during a ceremony held at the First United Methodist Church in Tupelo, Mississippi. 
In July 1943, Mr. Jackson enlisted in the U.S. Marine Corps during World War II and reported to basic training at Montford Point Camp, North Carolina. He was among the first African Americans to enlist in the U.S. Marine Corps and one of the thousands sent to fight in the Pacific Theatre. 
"Mr. Jackson was a true hero," Congressman Kelly said. "He had a love for America that compelled him to leave the only life he had ever known without any assurances that he would return. Mr. Jackson's great patriotism will always be remembered, as will the service of his fellow Montford Point Marines. It is an honor to present America's highest civilian award to the family of this great American."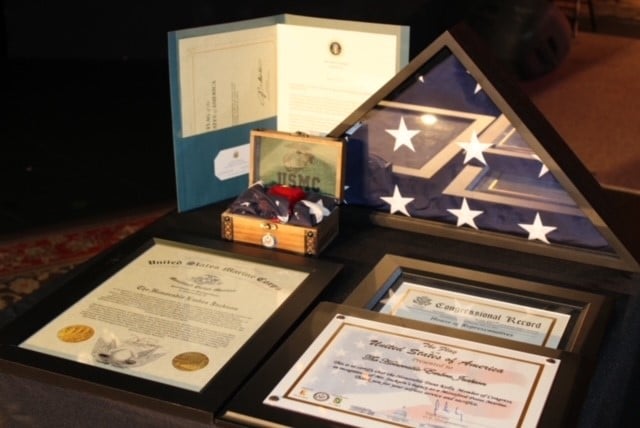 From 1942-1949, more than 20,000 African American men joined the United States Marine Corps. These patriotic Americans reported to Montford Point Camp in Jacksonville, North Carolina, for segregated basic training. During World War II, thousands of Montford Point Marines fought with courage and bravery during fierce fighting in the Pacific. Many paid the ultimate sacrifice. In 1948, President Harry Truman ended segregation in the U.S. Armed Forces – a decision believed to have been influenced by the distinguished service of the Montford Point Marines.
Stay up to date with all of Mississippi's latest news by signing up for our free newsletter here. 
Copyright 2023 SuperTalk Mississippi Media. All rights reserved.