Congressman Michael Guest voted against H.R. 5304, a bill that would suspend the debt ceiling. Suspension of the debt limit would enable the enormous $3.5 trillion partisan reconciliation bill proposed by Congressional Democrats.
The bill passed the House 220-211 on a party line vote. It is expected to receive significant Republican opposition in the Senate.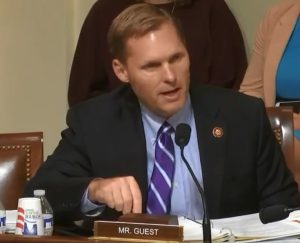 "I will not support the suspension of the debt limit in order to pay for a $3.5 trillion spending bill proposed by the Democrats. It is fiscally irresponsible for the Democrats to run up billions of dollars in new debt. I believe the American people deserve better," Congressman Guest said in a recorded statement.
Congressman Guest signed a letter last month promising the American people that he would not support suspending the debt limit, stating instead that addressing the debt ceiling is solely the responsibility of the Democratic party, which continues to pursue massive spending legislation.
"We, the undersigned Republican Representatives, are letting Democrat Representatives and the American public know that we will not vote to increase the debt ceiling, whether that increase comes through a standalone bill, a continuing resolution, or any other vehicle. This is a problem created by Democrat spending. Democrats will have to accept sole responsibility for facilitating it," the Members wrote in the letter.
"We should not default on our debts under any circumstances. If Democrats threaten a default, it will only be because they refuse to vote for the debt ceiling increase necessitated by their own irresponsible spending," the letter continues.
Despite this public declaration, Democrats attached the suspension of the debt limit to a continuing resolution to fund the government until December 3rd.
"Nancy Pelosi and the Democrats are tying suspension of the debt limit to the continuing resolution – which would keep the government funded. The Democrats' decision to tie these two together greatly increases the chance of a potential government shutdown," said Guest.
Stay up to date with all of Mississippi's latest news by signing up for our free newsletter here. 
Copyright 2023 SuperTalk Mississippi Media. All rights reserved.