The Ole Miss community lost one its trailblazers on Monday when Coolidge Ball, the university's first Black student-athlete, passed away at the age of 71.
Ball, an Indianola native, signed a scholarship with the Rebels in August 1970 to play for the men's basketball team and then-head coach Cob Jarvis. Ball chose Ole Miss over countless schools across the nation in order to break barriers and open the door for future generations of Black student-athletes at Ole Miss.
During three years on the varsity squad in Oxford, Ball scored 1,072 points and guided the Rebels to three consecutive winning seasons from 1972 to 1974. On top of earning All-SEC honors every season, Ball was selected by his teammates as team captain and MVP.
Following his playing days, Ball coached four years at Northwest Mississippi Community College before opening Ball Sign Company in Oxford. He has since been inducted into the Ole Miss Athletics Hall of Fame, the Mississippi Sports Hall of Fame, and was named an SEC Basketball Legend in the class of 2005.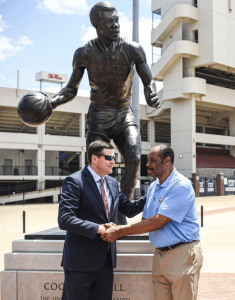 Chancellor Glenn Boyce and athletics director Keith Carter both voiced their sadness after Ball's death, via a university press release.
"Emily and I are saddened by the news of Coolidge Ball's passing," Boyce said. "He was a pioneer and a trailblazer whose immense courage opened the door for countless student-athletes at our university and in our state. Coolidge was widely respected for his strength, humility, and kindness and will always be remembered as an extraordinary source of inspiration. We extend our deepest condolences and prayers to his family and loved ones."
"We are heartbroken to learn of the passing of Coolidge Ball – the greatest trailblazer in the history of Ole Miss Athletics," Carter said. "He not only broke down walls for future generations of student-athletes but also provided an example for all those who followed him. Coolidge remained an active member of the Ole Miss family throughout his life and always blew me away with his grace and kindness. Our university is forever grateful for his impact as a student athlete, civil rights leader and friend to us all."
In 2021, Ole Miss made sure Ball would always be memorialized on-campus by unveiling a bronze statue of him outside the Pavilion Plaza. Visitation for Ball is scheduled for Friday at 3 p.m. at the Tallahatchie-Oxford Missionary Baptist Association Building. The funeral will also take place at the facility on Saturday at noon.