According to the Mississippi State Department of Health, there are  173 new cases of COVID-19 in Mississippi bringing the total number of positive cases in the state to 2,642.  Eleven more people have lost their battle to the disease bringing the total number of deaths to 93.   In addition, five new outbreaks have been identified in long-term care facilities.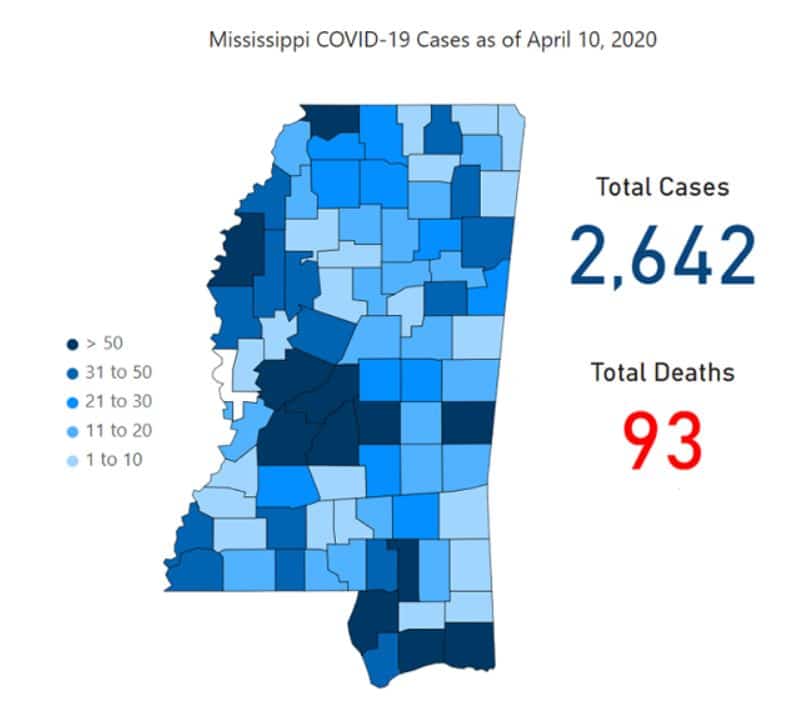 If you are waiting for test results, it is essential to remain at home. Do not go to work or leave home. Stay in a specific room at home and avoid contact with other family members as much as possible. These steps are important to prevent the possible spread of disease.
Mississippi COVID-19 cases to date and the number of long-term care (LTC) facilities with outbreaks are shown for each county in the table below.
| | | | |
| --- | --- | --- | --- |
| County | Cases | Deaths | LTCs with Outbreaks |
| Adams | 49 | 1 | 2 |
| Alcorn | 7 | | |
| Amite | 11 | 1 | 1 |
| Attala | 18 | | |
| Benton | 5 | | |
| Bolivar | 65 | 3 | 2 |
| Calhoun | 14 | | 1 |
| Carroll | 7 | | |
| Chickasaw | 22 | 2 | 1 |
| Choctaw | 10 | 1 | |
| Claiborne | 5 | | |
| Clarke | 13 | 1 | 2 |
| Clay | 17 | | |
| Coahoma | 38 | 1 | |
| Copiah | 28 | | |
| Covington | 12 | | |
| Desoto | 163 | 2 | 1 |
| Forrest | 86 | 2 | 2 |
| Franklin | 10 | | |
| George | 7 | | |
| Greene | 2 | | |
| Grenada | 10 | | |
| Hancock | 38 | 5 | 2 |
| Harrison | 107 | 5 | 2 |
| Hinds | 234 | 2 | 3 |
| Holmes | 42 | 3 | |
| Humphreys | 9 | 1 | |
| Itawamba | 9 | | |
| Jackson | 139 | 5 | 1 |
| Jasper | 12 | | |
| Jefferson | 4 | | 1 |
| Jefferson Davis | 5 | | |
| Jones | 30 | | 2 |
| Kemper | 14 | | |
| Lafayette | 29 | 1 | |
| Lamar | 31 | 1 | |
| Lauderdale | 133 | 8 | 4 |
| Lawrence | 6 | | |
| Leake | 27 | | |
| Lee | 42 | 3 | |
| Leflore | 44 | 4 | 1 |
| Lincoln | 41 | 3 | 2 |
| Lowndes | 22 | | |
| Madison | 99 | 2 | 2 |
| Marion | 17 | | 1 |
| Marshall | 30 | 2 | |
| Monroe | 31 | 2 | 2 |
| Montgomery | 14 | 1 | |
| Neshoba | 26 | | |
| Newton | 12 | | 1 |
| Noxubee | 6 | | |
| Oktibbeha | 36 | 1 | 2 |
| Panola | 22 | 2 | |
| Pearl River | 82 | 6 | 2 |
| Perry | 16 | 1 | |
| Pike | 47 | 1 | 1 |
| Pontotoc | 14 | 1 | |
| Prentiss | 12 | | 2 |
| Quitman | 12 | | |
| Rankin | 94 | 2 | |
| Scott | 52 | | 1 |
| Sharkey | 3 | | |
| Simpson | 7 | | |
| Smith | 23 | 1 | 1 |
| Stone | 9 | | |
| Sunflower | 35 | 1 | |
| Tallahatchie | 3 | | |
| Tate | 23 | | |
| Tippah | 43 | 6 | 1 |
| Tishomingo | 2 | | |
| Tunica | 19 | 1 | 1 |
| Union | 7 | 1 | 1 |
| Walthall | 16 | | |
| Warren | 11 | | 1 |
| Washington | 49 | 2 | 2 |
| Wayne | 8 | | |
| Webster | 14 | 1 | |
| Wilkinson | 42 | 3 | 1 |
| Winston | 18 | | |
| Yalobusha | 13 | | |
| Yazoo | 58 | 1 | |
| Total | 2,642 | 93 | 52 |