New data from the Mississippi State Department of Health shows that COVID-19 cases and subsequent quarantines have drastically risen through the first few weeks of the academic year. 
Through August 13th, data shows that 5,933 students have tested positive since the school year began along with 1,496 teachers. 
Currently, 20,334 students are being quarantined in addition to 1,463 teachers. The updated data comes from 803 schools in 73 counties across the state.
Several schools, including the entire Jefferson Davis County School District, have transitioned to virtual learning due to rising case numbers. Other schools have reinstated mask mandates, but Governor Tate Reeves has made it clear that no such mandate will be coming from the state level. 
Earlier this week, it was reported that an 8th grader in Smith County died shortly after being diagnosed with COVID-19. 
State Health Officer Dr. Thomas Dobbs shared a chart earlier showing that youth cases of COVID-19 are climbing quickly in Mississippi.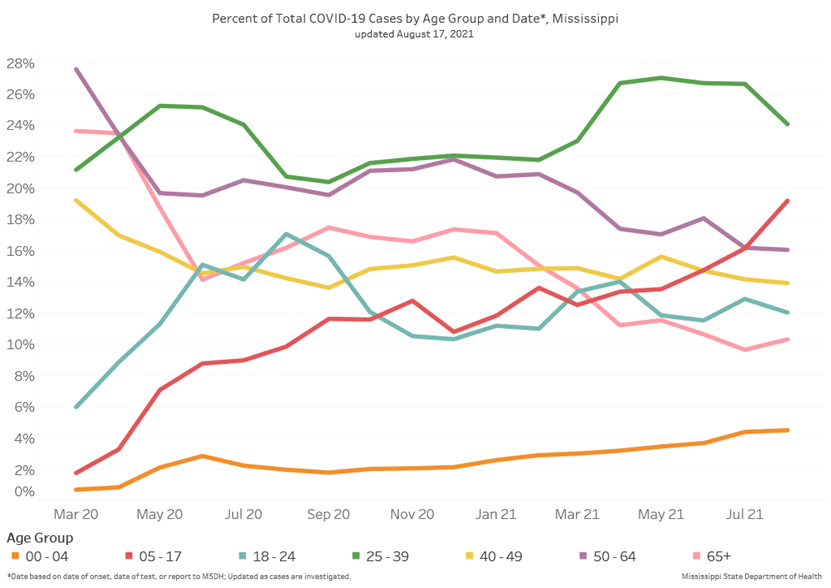 Stay up to date with all of Mississippi's latest news by signing up for our free newsletter here. 
Copyright 2023 SuperTalk Mississippi Media. All rights reserved.