A group of Mayors along the Gulf Coast met to discuss issues and negative impacts that have come from unprecedented dual openings of Louisiana's Bonnet Carre Spillway. Biloxi Mayor Andrew "FoFo" Gilich said that a united front is needed to work with their state and federal partners on solutions to the issues.
For the first time in history, the Bonnet Carre Spillway has opened twice this year, dumping vast amounts of sediment-rich freshwater runoff from the flood-prone Mississippi River into Lake Ponchartrain and onto the Mississippi Sound.
"We're looking for facts and solutions, and we're going to work together to find a way to minimize the impacts and be more proactive in dealing with them in the future," Gilich said at the Biloxi Visitors Center to mayors and other leaders from across the Coast.
The first opening occurred Feb. 27 and lasted 44 days. Joe Spraggins, executive director of the Mississippi Department of Marine Resources, said the second opening on May 10 is expected to last even longer.
Among the negative impacts identified by Spraggins and marine scientists at the meeting were a 35 percent reduction in average crab landings for February-April, a western oyster reef mortality rate of 50 percent, and 84 dolphin and 126 sea turtle deaths.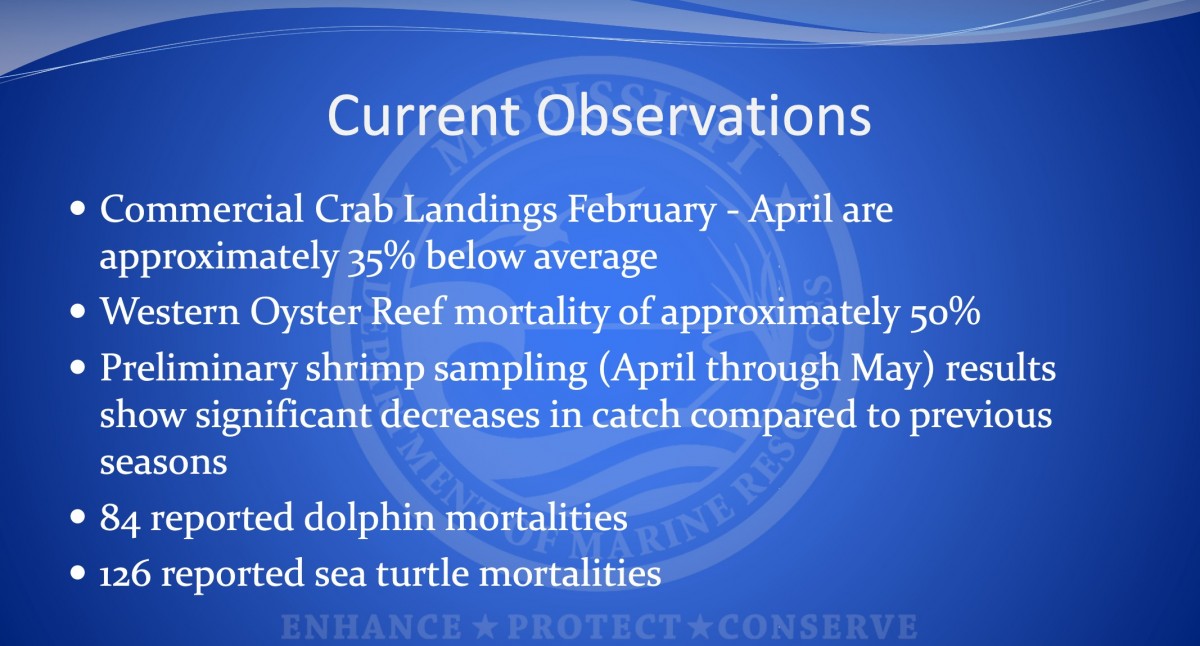 What isn't yet known is how much of those impacts are directly attributable to the spillway intrusion of freshwater into the Mississippi Sound rather than other factors.
Joe Jewell, Marine Fisheries Director at MDMR, noted that spillway openings are happening more frequently than any time in the past, due to the amount of flooding upriver along the Mississippi. The frequency is causing even more alarm and concern for the delicate environmental balance needed to sustain historic shrimp, crab and oyster production in the Sound.
Fisheries scientists Jill Hendon and James Franks from the Gulf Coast Research Lab added that it's been more than 45 years since there was a competent study of freshwater intrusion impacts from spillway openings.
Pass Christian Mayor Chipper McDermott called for state help in returning a robust oyster production in western Harrison County while Waveland's Mayor Mike Smith suggested that the federal government devise a plan to divert overflow from the Mississippi to other areas.
Gilich said the Coast has significant new financial resources to deal with the situation in the form of grants from the BP disaster fund or the Gulf of Mexico Energy Security Act, known as GOMESA. He and his fellow mayors agreed on a plan to meet with state and federal officials to identify workable solutions and funding sources.
Stay up to date with all of Mississippi's latest news by signing up for our free newsletter here. 
Copyright 2023 SuperTalk Mississippi Media. All rights reserved.