Speaker of the House Nancy Pelosi may bring members of the House back from August recess early to address issues regarding the United States Postal Service (USPS).
Some lawmakers have even suggested that the President doesn't support funding the USPS because he wants to prevent a surge in mail-in voting during the coronavirus pandemic.
Mississippi Congressman Michael Guest says it's all political.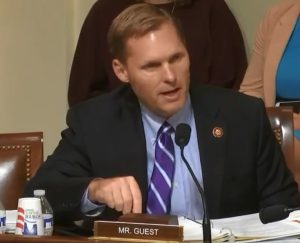 "First of all, the postal service is not going out of business," said Guest.  "But, in today's environment, the post office has many additional competitors, and so many people don't use the postal service for their everyday business."
Guest says, "So much of what we do now is electronic by way of email and bills being paid online.  We have seen, particularly over the last decade, a decrease in the amount of first-class mail.  In the COVID-19 world, we are seeing an uptick in postal deliveries because businesses had to close their door fronts and more people are shopping from home."
Guest confirms that the USPS continues to lose money.  "From 2007 to 2018, the USPS lost 69-billion dollars, so it is imperative that there are changes made so the post office runs more efficiently."
In fact, Guest said Postmaster General Louis Dejoy was looking at making several changes.  "He was looking at things such as reducing overtime costs, which continues to be a major expense," said Guest.  "He was also looking at relocating the blue drop boxes to more heavily traveled areas and perhaps taking some of the older mail processing machines out of service because of the reduction in the volume of first-class mail."
Guest said, "Democrats are seizing on this claiming that the Postmaster General and the President are looking to disenfranchise voters by preventing votes from being counted, and that is the furthest thing from the truth."
"On Tuesday, the Postmaster General announced that he was going to halt any changes that he was planning to make in the USPS until after the election in order to make sure he was avoiding even the appearance of impropriety," said Guest.
So, is the USPS in trouble?  Guest said the USPS has access to 25-billion dollars: 15-billion dollars cash on hand and a line of credit from the CARES Act which equals 10-billion dollars.
"The Democrats want all members of Congress to return this weekend in order to vote to do what the Postmaster General has already said he was going to do, which would be to make no further changes," said Guest.  "And, Nancy Pelosi wants to give the USPS an additional 24-billion dollars.  There's no way the USPS can spend 50-billion dollars between now and Election Day.  While the USPS needs some changes, we need to do what we can to stem some of the red ink that's coming from the postal service. "
Guest stated that Democrats are seeking to only come in and put a band-aid on the problem by throwing more money at the USPS.
So, what is driving this effort?  "I think fear is the main contributor," said Guest.  "They are trying to scare the American public and they are trying to use this to make the President look bad."
Stay up to date with all of Mississippi's latest news by signing up for our free newsletter here. 
Copyright 2023 SuperTalk Mississippi Media. All rights reserved.