On Thursday morning, Dr. Dan Edney was officially introduced to the media as Mississippi's new state health officer.
Edney, who was named Dr. Thomas Dobbs' successor in late May, initially joined the Mississippi State Department of Health (MSDH) in February 2021 as chief medical officer and regional health officer for the Central Public Health Region. Prior to that, he was in private practice in Vicksburg for more than 30 years.
Edney kicked off his first press briefing as the state's leading medical official by thanking Dobbs for his time with the agency – especially when leading the state through the crux of the COVID-19 pandemic.
"He brought us through the hurricane of COVID not just with expertise and professionalism, but I think he did so with grace and wisdom," Edney said. "His job was to sail the ship through the hurricane and bring us through to the other side, which he did masterfully. Now, my job is to keep sailing the ship in the right direction, so that we can continue working on the other public health issues of the day."
Edney then explained that his top priority as state health officer is to rid Mississippi of the title of "America's unhealthiest state," which starts with closing the state's massive health equity gap.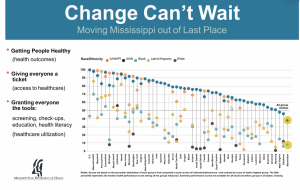 "I'm laser focused on really understanding and identifying the health disparity issues that are impacting all of our populations across the state and for all of us to have a better understanding of that," he said. "And then, to come to an agreement of what disparities we're going to attack first and get after it."
Per a recent study from the Commonwealth Fund, Mississippi demonstrates "relatively poor performance" for all racial and ethnic groups – more so in minority groups – in terms of health outcomes, healthcare access, and quality and use of healthcare services.
Additional areas of concern for Edney are Mississippi's rising obesity rate, growing number of opioid deaths, as well as already-high infant mortality rate.
The full press briefing with Edney can be watched below.
Stay up to date with all of Mississippi's latest news by signing up for our free newsletter here. 
Copyright 2023 SuperTalk Mississippi Media. All rights reserved.