National Forests in Mississippi officials are reminding the public that it is illegal to dump waste on national forest lands. The reminder stems from a recent discovery of multiple garbage dumps on the Bienville Ranger District.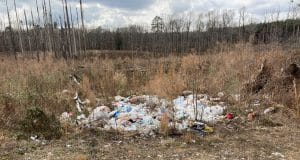 Unfortunately, garbage dumps continue to be a problem on all the national forests. Besides being unsightly, disposing of household garbage, appliances, tires, furniture, and other items on public lands can be harmful to wildlife and can leach harmful pollutants into the surrounding soil and water.
"Encountering other people's trash on the forest detracts from everyone's nature experience and can deteriorate recreation experiences and wildlife habitat quality," said Bienville District Ranger Chris Locke. "In order to manage our public lands well, we need everyone's assistance in keeping our forests clean and healthy."
Dumping garbage on the national forest is a federal crime and offenders can be ticketed and fined up to $5,000 and/or 6 months in jail (36 CFR 261.11e). Taxpayers are forced to cover the costs of clean up, in the meantime.
If you come across a dump site on national forest lands, use caution as there may be hazardous material or substances present. Note the location of the site and contact the local ranger district office. Office phone numbers can be found on our website at www.fs.usda.gov/mississippi.
Stay up to date with all of Mississippi's latest news by signing up for our free newsletter here. 
Copyright 2023 SuperTalk Mississippi Media. All rights reserved.