With Mississippi's vaccination rate lagging behind the rest of the country, First Lady Dr. Jill Biden traveled to the Magnolia State this afternoon to encourage everyone to get the COVID-19 vaccine—emphasizing that it's safe, effective, and free to all.
Reflecting on the early days of the pandemic, the First Lady recalled the quiet streets, empty grocery aisles and lonely times that defined 2020 before touting the vaccine as a readily available solution.
"We have a way to make it better. We couldn't know when it was going to end, and it felt like it was going to take a miracle, didn't it? But, I feel like the miracle is here," she said.
To date, 35% of Mississippi's eligible population (12 & up) has gotten at least one dose of the vaccine with just 29% being fully vaccinated.
"That's just not enough. That's why I wanted to come here today. That's why the White House said 'Jill, please, can you go to Mississippi?' Because the President and I, the White House, our administration, we care about you. We care about the people of Mississippi. We want them to be safe, We want them to be healthy."
During her remarks, the First Lady acknowledged the role that misinformation may play in some Mississippians' decisions to turn down the vaccine. She reiterated that the vaccines were as rigorously tested as any other vaccine during their development and that the mRNA technology found in the Pfizer & Moderna shots is not brand new.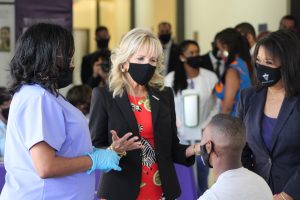 "While these vaccines might be new, the technology behind them isn't at all. Scientists have been studying similar viruses and working on this type of vaccine for decades now. So, when the pandemic started, they already had a [blueprint] ready to go," she explained.
Additionally, she pointed to the vaccine's efficacy as it is shown to drastically reduce the risk of severe infection and death. Getting the vaccine is a personal choice and Biden asked that, while making your choice, you get answers to your questions from medical experts.
"The vaccines might feel like a miracle, but there's no faith required," Biden expressed.
Furthermore, Biden noted that partnerships with Uber & Lyft offer individuals a free ride to vaccination sites, which can be easily found at vaccine.gov.
Before departing for Nashville, the next stop on her itinerary, Biden pleaded with Mississippians to "do your part" in ensuring that the COVID-19 pandemic continues to fade away as we enter the summer months.
"From barbeques to baseball games to boardwalks full of laughing children, summer is here and it has never felt more full of promise," she said. "The fresh air smells sweeter without our masks. The time with our loved ones feels more precious now that we know it could be lost. The bonds of our community feel stronger because we carried each other through the darkest times."
Biden was joined during her tour by Congressman Bennie Thompson and Jackson Mayor Chokwe Lumumba who each expressed hope that Biden's visit will have a positive impact on the state's vaccination rate.
Watch Biden's full remarks below: