Photo courtesy of Ole Miss Athletics
The New York Jets drafted BYU QB Zach Wilson with the second overall pick in the 2021 NFL Draft, so, early in round two, they gave their new signal-caller a weapon with the selection of Ole Miss WR Elijah Moore. 
After falling out the first round, Moore didn't have to wait long on Friday to hear his name called as the Jets snagged the record-setting Rebel receiver with the 34th overall pick. 
"We really didn't think Elijah had any chance to make it to us," Jets GM Joe Douglas said. "To get a player of his caliber sitting there at pick 34, we're sitting here with a unique opportunity to add three unique players, really top-25 players, to be impact players for us."
Moore was an impact player for the Rebels throughout his career, but his production level exploded in Lane Kiffin's offense in 2020 as he broke the program's single-season record for receptions with 86 in just eight games. While leading the country in receiving yards per game with 149.3, Moore's 1,193 total yards fell just shy of another single-season record—A.J. Brown's 2018 mark of 1,320 yards. Not only did the consensus All-American's production catch the attention of new Jets' head coach Robert Saleh, so did his versatility. 
"He's dynamic. When he gets the ball in his hands, he becomes something different," Saleh said. "His ability to separate on routes, run the jet sweeps, come out of the backfield — he's extremely versatile. I'm ecstatic he was able to get to us. There's not a lot of things he can't do."
The 5'10, 178-pound receiver will hope to someday join LB Larry Grantham in the Jets' Ring of Honor. The former Rebel was selected to five AFL All-Star Games as a first-round pick by the team (then the Titans) in the first American Football League Draft in 1960. 
Royce Newman – Green Bay Packers – Round 4, Pick 142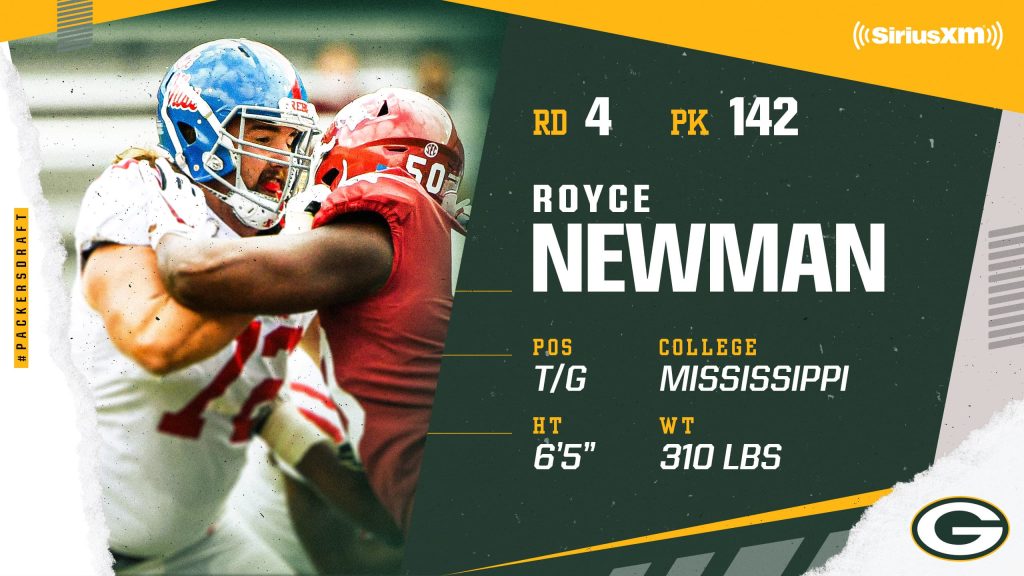 Moore wasn't the only Rebel to come off the board during the 2021 NFL Draft as the Green Bay Packers took OL Royce Newman in Saturday's 4th round. 
Over his final two seasons as a Rebel, Newman started 22 consecutive games and allowed just three sacks in 847 pass blocking situations. 
"Obviously it's easier to judge the talent when they're playing against premier competition," Packers co-director of player personnel Jon-Eric Sullivan said of Newman's SEC experience "All things even, we prefer to take guys from big schools who have played against formidable competition."
Newman played multiple positions along the Rebel o-line and the Packers observed him at the Senior Bowl where he also took some reps at center. 
"The versatility makes him a classic Packers pick on the offensive line, and in time the team will see where he fits best," the team stated. 
With Moore & Newman's selections, 302 Rebels have been taken in the history of the NFL Draft. 
UDFA
TE Kenny Yeboah signed a deal with the New York Jets as an undrafted free agent.