Have you ever dreamed of owning the home of a rock star? Maybe the home of the one and only Elvis Presley?
If so, now's your chance — but we're not talking about Graceland.
One of the two homes in Tupelo where Presley and his family lived is set to be auctioned off on August 14. The only catch is that if you buy it, you're responsible for putting it back together as the house was professionally dismantled in 2017.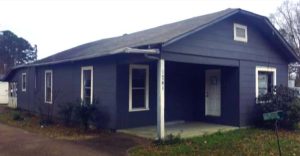 "Offered is an incredibly special and nearly unprecedented opportunity in the collecting world," a release from Rockhurst Auctions reads. "This offering consists of the entire childhood home of Elvis Presley from 1241 Kelly St. in East Tupelo, Mississippi. The home was completely taken down, disassembled board by board, preserved and safely stored for eventual reassembly and rebuilding at the location of the winner's choice."
The live auction for the Presley family home, as well as other artifacts from the life and career of the King, will be held at the Holiday Inn at 3411 Elvis Presley Blvd., Memphis, TN 38116.
Stay up to date with all of Mississippi's latest news by signing up for our free newsletter here. 
Copyright 2023 SuperTalk Mississippi Media. All rights reserved.