East Mississippi Community College (EMCC) in the Golden Triangle is currently accepting students for the Welding Technology program's 2023 spring term, giving any Mississippian interested the chance to become certified in welding.
The program offers individuals the chance to receive certification for all forms and methods in nine months or earn an associate's degree in applied science after two years. Other benefits of the program include being certified with the National Center for Construction Education, NCCER Core Level One and Two Welding, and AWS.
EMCC's ambassador for the program, Genesis Ivory, explained that although the majority of participants are young males, anyone who enrolls can participate.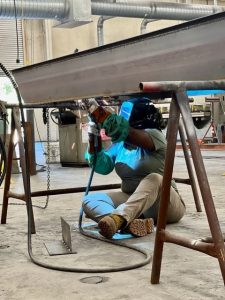 "When I entered the program, I had already graduated high school and already had a degree in education," Ivory said. "My first day, I was the only female in the room with a bunch of younger guys fresh out of high school."
Ivory stated that she first became interested in welding after her older sister became certified through EMCC's welding program.
"I've always heard the men welders that I know talk about the money they make, the things that they've actually made while welding. Also, what intrigued me was the places welding have taken them," Ivory explained.
According to Ivory, her goal is to use her training in welding to travel and eventually teach other women at the Vocational Center in her hometown.
"As of right now, I currently do have conversations with different young ladies," Ivory stated. "Welding is not just a man's job, everyone can weld. Women are actually the best welders. That is the goal, that is the dream, that is what I want to get out into the world."
At this time, Ivory intends to continue working toward receiving her associate's degree in applied science while she works as a certified welder.
"At this moment, I've finished the nine-month certification, which makes me a certified welder in all methods," Ivory said. "I go back in January for the spring semester and in May, I will actually graduate with the associate's degree."
For more information on how to enroll in EMCC's Welding Technology program, click here.
Stay up to date with all of Mississippi's latest news by signing up for our free newsletter here. 
Copyright 2023 SuperTalk Mississippi Media. All rights reserved.