The number of COVID-19 cases across the Magnolia State is on the rise once again, with weekly totals in August nearing this year's highest record.
According to the Centers for Disease Control and Prevention (CDC), the number of cases throughout the U.S. has grown at an increased rate over the past month, with Mississippi having one of the highest COVID-19 hospital admissions levels in the nation.
The CDC reported that five Mississippi counties near the Alabama border had over 20 hospital admissions for COVID-19 per 100,000 population at the end of August. In total, the counties — which included Neshoba, Kemper, Newton, Lauderdale, and Clarke — all had approximately 40 new admissions of confirmed COVID-19 within seven days.
Since then, the number of cases in the state alone has jumped to nearly 2,000 before dropping again at the start of September.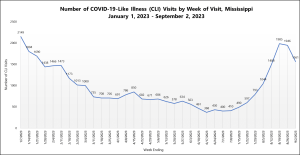 President-Elect of the Mississippi State Medical Associations Board of Trustees, Dr. Jennifer Bryan, explained that those contracting the most recent strand of the virus are not exhibiting severe symptoms.
"It does not appear to be worrisome in any way like when we look back at historical data from previous years when we saw just the nightmare surges. That's not what we are talking about," Bryan stated. "We're seeing that, in general, a milder form of the virus."
Governor Tate Reeves spoke out about the future of COVID-19 regulations as Mississippi's total number of cases started to rise two weeks ago, saying that he will not enforce another mask mandate in the state.
"If you want to take extraordinary measures to protect yourself from getting sick, God bless you. That is your right and you should do what you think is best," Reeves said. "Maybe you're the smartest of all of us. But we are never going back to 2020."
Reeves continued, stating that he believes that Mississippians have the right to make their own decisions about how much risk they tolerate when it comes to the pandemic.
"No matter what pronouncements come down from the Biden/Fauci administration: we will go to school, we will go to church, we will go to work, and we will play sports," Reeves concluded. "We will live in self-determination, not top-down fear."
Bryan backed Reeves' statement and reminded those who are elderly or predisposed to have underlying conditions to wash their hands, wear a mask, and get vaccinated.
"There are people who certainly need to take extra precautions during these times," Bryan said. "Some people are trying to protect others or loved ones and take the necessary precautions there."
Stay up to date with all of Mississippi's latest news by signing up for our free newsletter here. 
Copyright 2023 SuperTalk Mississippi Media. All rights reserved.