Here we go.  Forecasters have been preparing us for what is to come in the next several days.  Now is the time to prepare as conditions continue to deteriorate.
The National Weather Service in Jackson says light freezing rain, resulting in light icing of bridges and overpasses, is possible generally along and north of a line from Natchez to Jackson to Columbus on Friday morning and again Friday night into Saturday morning.
Arctic air is expected to begin reaching the area this weekend, expanding and persisting into early next week. This could end up being a long duration of very cold conditions and dangerous wind chill readings.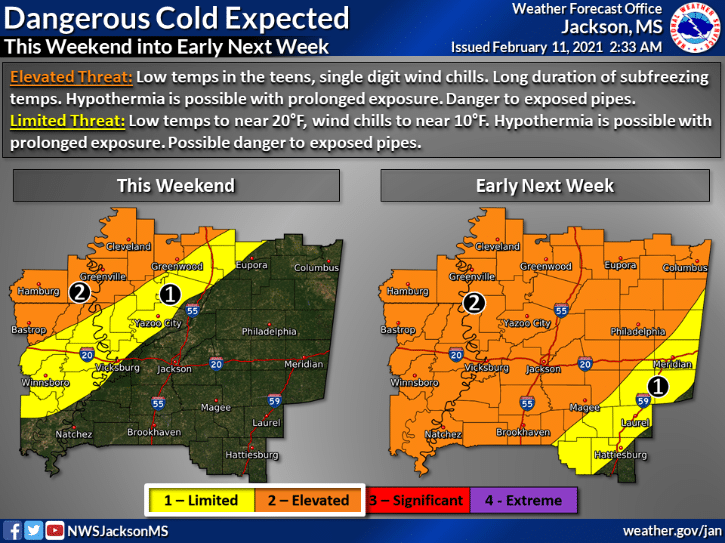 Impactful winter weather is expected again early next week, potentially impacting a larger portion of the area. While it is still too soon to provide details of precipitation type or accumulation amounts, travel impacts are anticipated, and the most likely timing appears to be Monday into Monday night.
Entergy Mississippi reminds you that extreme winter weather can cause power outages and downed power lines, but the company says they are prepared.
"We continually watch the weather and put our plan in action as soon as a severe weather threat emerges," said Lea Turnipseed, Entergy Mississippi vice president of customer service. "These storms can be deadly. We encourage customers to form a storm-preparedness plan before severe weather appears. Waiting until a storm arrives may be too late."
Prepare for extreme winter weather and the soon-to-come spring storms in advance by assembling an emergency kit of basic supplies.
While you're at it, the Mississippi Department of Transportation offers these tips on organizing a winter weather kit for your vehicle.
When it comes to heating your home during dangerously cold temperatures, there are some dangers you should be aware of.
As we move through the weekend and into next week, stay safe and warm.
Stay up to date with all of Mississippi's latest news by signing up for our free newsletter here. 
Copyright 2023 SuperTalk Mississippi Media. All rights reserved.