In his first days in office, President Joe Biden signed a number of executive orders, including one to allow transgender athletes to compete in women's sports. In Mississippi, a bill is moving forward in an attempt to push back on that policy.
Senator Angela Hill's 'Mississippi Fairness Act,' which will be taken up by the Senate, seeks to require all public schools or universities in the state to designate its athletic teams or sports according to biological sex and provide protection for those schools.
This is not the first time that Hill has attempted to pass this bill (SB 2536) as it failed to reach the floor in the past few years. She authored the bill after seeing a Connecticut policy allow biological males to compete in women's sports, leading to a diminished level of competition. According to the American Family Association, which supports the bill, two transgender athletes won 15 women's state championship titles and set 17 new individual meet records between 2017-2019.
Hill believes that the allowance of transgender participation in women's sports takes opportunities away from biological women.
"I still know what a woman is, why I filed this bill because I know there are inherent biological differences between males and females and that females are at a distinct physiological disadvantage from a male. The most elite female athletes are overshadowed by average male athletes and that's just typically how it goes."
The senator from District 40 was also critical of the president, saying that his executive order aimed at inclusivity would have an adverse effect.
"What Biden's administrative order is trying to do is say, women, you may matter in everything here and there, but you don't matter and sports. I'm here to support all women that want to play sports."
It appears that Hill's bill has bipartisan support, according to poll results cited by the Mississippi Center for Public Policy.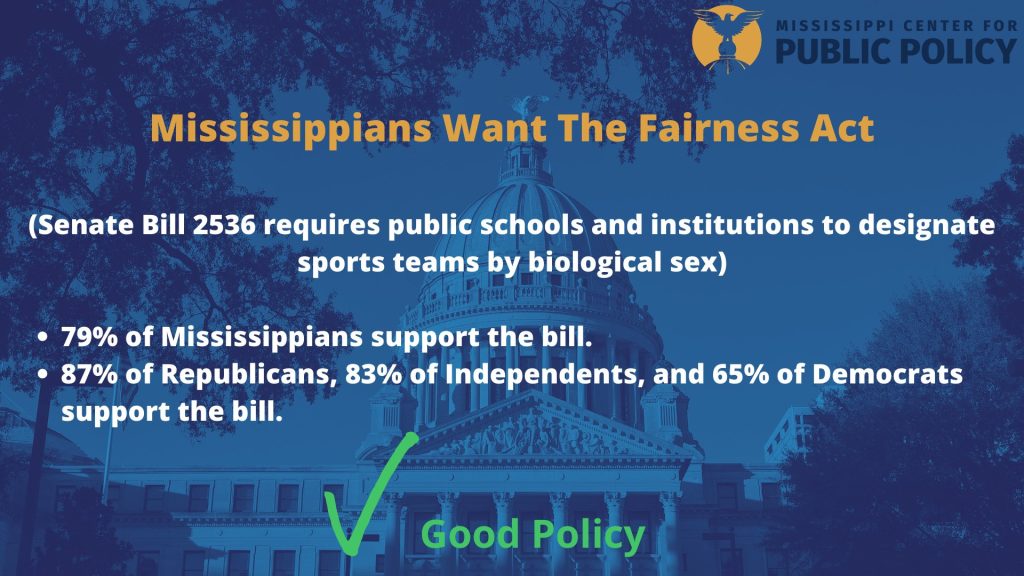 Governor Tate Reeves posted his opposition to the executive order, calling it a "radical social experiment."
The bill has received push back from organizations such as the ACLU, who has blocked several bills from taking effect in Mississippi in recent years through various lawsuits.
"The only state to pass this type of legislation so far has been Idaho, which swiftly had the law suspended by a district court. We'll continue to fight against discriminatory attempts like this in other states," the organization said.
Similar bills have been introduced in 17 states.
Stay up to date with all of Mississippi's latest news by signing up for our free newsletter here. 
Copyright 2023 SuperTalk Mississippi Media. All rights reserved.