The London home of late Jim Henson, creator of the Muppets, has been awarded an English Heritage Blue Plaque.  It marks 50 Downshire Hill in Hampstead, London, where he lived from 1979 until 1982 and used as a base until his death.
The property lies opposite the former 'Jim Henson's Creature Shop', where the creatures of Henson's many fantasy classics including The Dark Crystal, The Storyteller, and Labyrinth were created.
London's blue plaques scheme, run by English Heritage, celebrates the links between notable figures of the past and the buildings in which they lived and worked.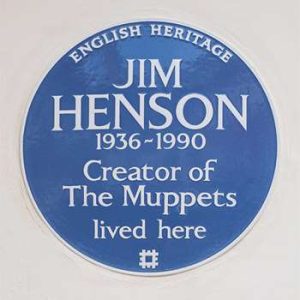 Born in Mississippi on September 24, 1936, James (Jim) Henson explored art throughout his childhood. In 1954, at age 17, he answered an advertisement seeking puppeteers to perform on Washington, DC's WTOP TV Junior Morning Show, creating the ancestors to The Muppets for his successful audition. He then studied graphic design and worked with the theatre department at the University of Maryland, where he met his future collaborator and wife, Jane Nebel, on a puppetry course. In March 1955, Jim and Jane were given their own TV show, Sam and Friends, on WRC-TV starring their creations, The Muppets, and quickly gained a following.
Jim and Jane married in 1959 and in 1960 their first child, Lisa Marie, was born. Between then and 1970 they had four more, during which time Jane stepped back from performing. By the early 1960s, Henson had expanded his team to include writer Jerry Juhl, puppet builder Don Sahlin, and puppeteer Frank Oz, who became a lifelong performing partner and friend.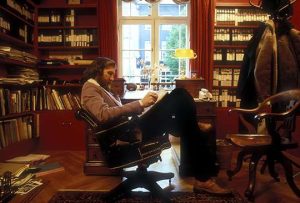 Along with making hundreds of television commercials and dozens of Muppet appearances on variety shows throughout the 1960s, Henson also experimented with film, garnering an Academy Award nomination for his short, Time Piece, in 1965. In 1969, Henson was part of the creative team that launched the educational show Sesame Street, introducing a community of Muppet characters that are still beloved around the world.
In 1976, Muppetmania rocked the UK as The Muppet Show, filmed at Elstree Studios, hit British screens. Aimed at family audiences, the show featured new characters including Fozzie Bear and Kermit's love interest, Miss Piggy. It was a wild success, popular in more than 100 countries, and stars were queuing up to appear – the second season would include Steve Martin, John Cleese, Peter Sellers, and Rudolph Nureyev, who danced with a giant pig in a Muppet version of 'Swine Lake'.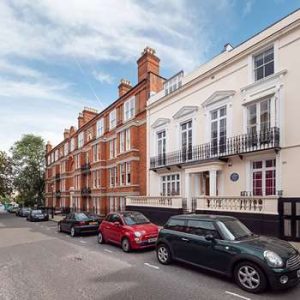 Henson made the UK a creative home for many of his subsequent projects and bought 50 Downshire Hill in 1979. He lived there until 1982 and kept it as a base until his death, using it to host meetings as well as for his family life. He also spent time with friends and colleagues walking and picnicking on Hampstead Heath – the local rabbit population is said to have inspired the hand-puppet special, The Tale of Bunny Picnic (1986). There he erected a bench to the memory of his late friend Don Sahlin, and Henson's own name was added in 1990.
At Elstree Studios, Henson directed a second Muppet movie, The Great Muppet Caper (1981) and his fantasy masterpiece, The Dark Crystal (1982). There he also met George Lucas, for whom he contributed some creative insight on Lucas's creation of Yoda, the Star Wars character that would be performed by Frank Oz. Along with a third Muppet movie, The Muppets Take Manhattan (1984), and TV specials like A Muppet Family Christmas (1987), the 80s saw Henson making classics such as the TV shows Fraggle Rock and The Storyteller, the film Labyrinth (1986) starring David Bowie (executive produced by Lucas), and a movie adaptation of Roald Dahl's The Witches (1990), starring Angelica Huston.
Unexpectedly, after a short illness, Henson died in New York on May 16, 1990 from septic shock. A colorful service was held on July 2nd at St Paul's Cathedral for Henson's British friends and colleagues. Fortunately, his creative legacy continues, entertaining and inspiring new generations across the globe.
---
Story provided by English Heritage
Stay up to date with all of Mississippi's latest news by signing up for our free newsletter here. 
Copyright 2023 SuperTalk Mississippi Media. All rights reserved.