If you were in or around the Claiborne County area on Wednesday morning and heard a loud boom, you were not imagining it.
The Mississippi Emergency Management, which received about 40 calls from individuals who heard the sound, announced that the fragment of a meteor struck the area north of Minorca, La., ultimately causing the ruckus.
When spotted in Earth's atmosphere, about 54 miles above the Mississippi River near the town of Alcorn, the fireball was moving at a speed of 55,000 miles per hour. It eventually disintegrated approximately 34 miles north of Minorca.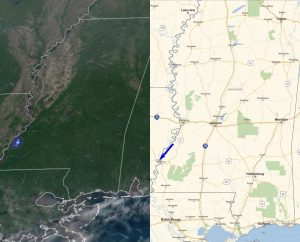 The fragmentation that did strike generated an energy equivalent of three tons of TNT, creating the shock waves that produced the booms and vibrations felt by individuals in the area.
According to NASA, the fireball was over 10 times brighter than the Full Moon at its peak.
Stay up to date with all of Mississippi's latest news by signing up for our free newsletter here. 
Copyright 2023 SuperTalk Mississippi Media. All rights reserved.