A handful of female inmates at the Mississippi Correctional Institute for Women (MCIW) have become the first-ever graduating class in MDOC's welding vocational program.
In total, 10 women were among the first to enroll in intensive classroom study to master welding in 2022, starting with simulators in MDOC's new welding trailer on the grounds of the Central Mississippi Correctional Facility in Pearl.
After inmates pass rigorous tests, they are certified by the National Center for Construction Education & Research, the national standard in construction training.
The graduates met that standard and will be employable in a multitude of heavy industries from ironworks to shipbuilding.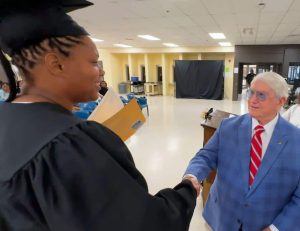 MDOC Commissioner Burl Cain said many of the women completing the program will help teach other inmates who will undergo the certification process in the following years.
"We have to have these first ones with their degrees, certified and qualified, so they can become teachers so we can have more degrees," Cain stated. "A lot of people here need to learn how to weld, get a good job."
MCIW Program Director Erica Smith said finding a job is a major step toward success in life after incarceration and that crucial step is a challenge for many inmates after leaving prison.
"One of the major issues women have when they're released from prison is they can't find work," Smith explained. "So we want to give them something that will help them gain employment when they leave and to help build a promising future."
The next step is a job fair to be hosted at the prison, which Mississippi construction industries have signed up to attend, including Ingalls Shipyards and others who need welders.
Inmates can substantially shorten their time in prison by attending classes and graduating with certified diplomas in skills and trades.
Stay up to date with all of Mississippi's latest news by signing up for our free newsletter here. 
Copyright 2023 SuperTalk Mississippi Media. All rights reserved.