Former Delta State University (DSU) student Lonnie Webb Allen has completed her degree after a 50-year absence from campus due to Mississippi's Complete to Compete (C2C) program.
After completing the C2C program, Allen — the mother of two daughters, six grandchildren, and one great-grandchild — finished her Bachelor of University Studies degree and graduated this past December
The C2C program, with funding from the Mississippi Department of Human Services and the W.K. Kellogg Foundation, has aided nearly 3,000 students across the state finish their degree. At this time, over 1,000 are currently enrolled in the program, which aims to assist those who left college over two years ago without a degree.
In 2017, DSU had its first C2C graduates walk across the state with their completed degrees. According to DSU's C2C Coordinator, Darla Poole, the program has been quite beneficial for students.
"Eight students graduated this past December and we've had 162 that have re-enrolled and graduated since 2017," Poole said. "It's about half and half with students who enroll full-time and part-time."
As for Allen, the Statesmen graduate originally enrolled at Delta State in 1972 after attending Northwest Junior College for nearly two years.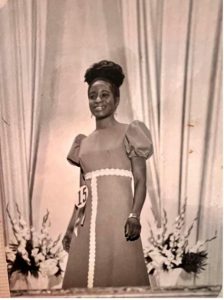 Allen then moved to Wisconsin after she became married to now Pastor Eugene Allen and attempted to obtain her degree at the University of Wisconsin-Madison.
After her major in Business Education was not offered at the university as well as life with her work and children became too busy, Allen chose to devote her time to providing for her family instead of pursuing her degree.
"I felt bad about it. I got so close to getting my degree. I helped my two daughters go on to school and get their degrees," Allen explained.
Allen later moved back to Mississippi after inheriting her parents' home and decided to obtain her degree after hearing about the C2C program. After transferring her credits back to DSU and completing the program, Allen was able to receive her degree after five decades.
"I walked across that stage with tears in my eyes," Allen said. "It's something I wanted to tell my children and grandchildren that if I can do it, you can do it. Never give up. With my faith in God and belief it could be done, I took that last class and put all I had into it."
Stay up to date with all of Mississippi's latest news by signing up for our free newsletter here. 
Copyright 2023 SuperTalk Mississippi Media. All rights reserved.