Governor Tate Reeves continued the almost three-decade-long tradition set by previous Mississippi governors by declaring April as Confederate Heritage Month on Friday.
The signing was not publicized or released by Reeves over social media, but a photo of the signed proclamation was shared on the Sons of Confederate Veterans' Camp 265 Rankin Rough & Ready's Facebook page on Monday.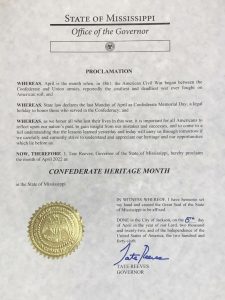 Like previous years, Reeves did not include much reasoning of why he wished to keep the tradition in 2022 but simply stated that he wanted to do the same as the five other governors before him during a news conference Wednesday.
"I signed the Confederate Heritage Month in the month of April in the same manner and fashion that the five governors that came before me, Republicans and Democrats alike, for over 30 years have done," Reeves defended. "And we did it again this year. Didn't think this was the year to stop doing it."
Reeves' reasoning was not accurate, however, as only four of the previous governors have taken part in the tradition.
Former Mississippi Governor Ray Mabus defended himself on Twitter following Reeves' claims, stating that he did not declare April as Confederate Heritage Month during his term from 1988 to 1992.
I absolutely did not issue anything like this. It started with Fordice, an overt White supremacist. My question for Gov Reeves is "so what" if 5 Governors have signed it. Doesn't make it right. https://t.co/D3C7ddQVqW

— Ray Mabus (@SECNAV75) April 14, 2022
Mabus continued, saying "Scores of Mississippi governors were ardent segregationists but the fact it was a 'tradition' or the 'status quo' didn't make it right or less hateful. The only heritages of the Confederacy as far as I can tell are slavery and treason."
Governor Reeves has not spoken further on the topic or Mabus' comments.
Stay up to date with all of Mississippi's latest news by signing up for our free newsletter here. 
Copyright 2023 SuperTalk Mississippi Media. All rights reserved.