Michael Corey Jenkins and Eddie Terrell Parker joined six Rankin County officers accused of beating, torturing, and sexually assaulting the two Black men in court on Thursday morning.
At this time, all six officers have pled guilty to 13 federal felony offenses and have been issued charges.
The officers involved in the incident include Brett McAlpin, 52, Daniel Updyke, 27, Jeffrey Middleton, 45, Joshua Hartfield, 31, Leonard Hunter Elward, 31, and Christian Dedmon, 28.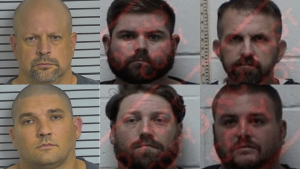 Timeline of Events
According to statements by Jenkins and Parker, the deputies forcibly entered the Braxton residence without presenting a warrant on January 24, 2023.
Both men were immediately handcuffed before Dedmon, Elward, Hartfield, and Middleton began stunning Jenkins and Parker with Tasers, with the first Taser being used at 10:04 p.m. Documents show Tasers being turned on, off, or used over a dozen times for approximately 65 minutes after the first Taser was fired.
In total, the incident is estimated to have lasted for around two hours, with Dedman said to have waterboarded the two men with milk, chocolate syrup, and alcohol while Elward held Jenkins and Parker down.
Reports also state that Opdyke orally assaulted Parker and Jenkins with a sex toy before Dedmon threatened to anally rape the two with the object.
Court documents later revealed that Dedmon poured grease over Parker's head while Elward threw eggs at both men. Parker and Jenkins were then ordered "to strip naked and shower off to wash away evidence of abuse" before Dedmon shot a bullet into the front yard.
Elward then placed the gun in Jenkins' mouth after secretly taking a bullet from the chamber and pulled the trigger. The unloaded gun clicked but did not fire.
He then racked the slide, intending to dry-fire a second time, but the gun discharged when he pulled the trigger again. The gunshot left Jenkins with a broken jaw, lacerated tongue, and severe wounds in his neck.
Immediately after, the deputies left Jenkins bleeding on the floor to discuss a cover story and dispose of any evidence involved in the shooting. A gun was then planted on Jenkins while officers destroyed the home's surveillance video footage, spent shell cases, and taser cartridges.
Jenkins was later transported to the University of Mississippi Medical Center (UMMC), where his injuries were treated for several weeks.
The officers charged Jenkins with aggravated assault of a police officer and possession of a controlled substance, while Parker was given two misdemeanor charges for disorderly conduct and possession of paraphernalia. Documents show that the deputies planted methamphetamine on the two men before making the arrests.
In addition to filing false reports, the deputies are also being accused of submitting fraudulent drug evidence to the crime lab, making false statements to investigators, and pressuring witnesses to stick to the cover story.
Shortly after, the two men filed suit against the six deputies and demanded $400 million in punitive and compensatory damages from the sheriff's department.
Jenkins and Parker also accused the officers of attempted murder, false imprisonment, assault and battery, intentional infliction of emotional distress, and six counts of deprivation of civil rights.
Deputies Involved
Rankin County Sheriff Bryan Bailey announced during a press conference on June 27 that the deputies involved in the incident had been terminated from their positions, but did not confirm the identities or amount of officers that had been fired at the time.
"We understand that the alleged actions of these deputies has eroded the public's trust in our department. Rest assured that we will work diligently to restore that trust," Bailey said.
Shortly after, the identities of four of the deputies were revealed through police and court records, with one of the men being an off-duty officer with the Richland Police Department.
In a letter released to the public on July 3, Richland Police Chief Nick McLendon stated that one of his officers, Hartfield, was present during the January event.
"It is with profound sadness and heartfelt regret that we must confirm that former Officer Joshua Hartfield, while off duty, has been implicated in an incident occurring in Rankin County, Mississippi on January 24, 2023. We must express our deepest disappointment that a member of our department is claimed to be involved in a situation that goes against our department's commitment to serve and protect the public," McLendon said.
Hartfield was placed on administrative leave and resigned from his position following the department's discovery of his involvement in the incident.
The identities of the remaining officers were confirmed in court on Thursday, with Elward and Dedmon having faced allegations within the last few years of using excessive force towards Black men while making arrests.
In 2021, Elward was accused of kneeling on the back and neck of Damien Cameron for over 10 minutes after responding to a report of vandalism at a neighbor's residence.
Cameron was then placed unconscious in the back of a police car before being transported to UMMC. The 29-year-old was pronounced dead before he could be treated by the hospital's trauma team, with patient records stating that he had wounds on his face and arms.
Within the same year, Dedmon was accused of putting a gun in Carvis Johnson's mouth during a drug bust but did not pull the trigger.
Elward and Dedmon were also said to be involved in the fatal shooting of Pierre Woods, who had reportedly begun firing at officers inside a Pelahatchie home in 2019. Woods had been diagnosed with mental health issues prior to the incident.
Now, both Elward and Dedmon are being accused of using excessive force against a Black man in a third case involving Jenkins and Parker.
Elward has stated in recent weeks that Jenkins pointed a gun at him during the event. Malik Shabazz, Jenkins' attorney, has since argued that neither men were in possession of a firearm at the time. It is unknown if a gun was found at the scene at this time.
Jason Dare, an attorney for the Rankin County Sheriff's Department, has also released that there is no body camera or dashcam footage from the January 24 incident.
Court Hearing
During Thursday's court hearing, the six deputies pled guilty to 13 federal felony offenses, including civil rights conspiracy, deprivation of rights under color of law, discharge of a firearm during a crime of violence, conspiracy to obstruct justice, and obstruction of justice.
Three of the defendants admitted in court that they were members of "The Goon Squad," a group of RCSO officers who were known for using excessive force and not reporting it.
All six officers were arraigned shortly after the hearing began and waived their right to a trial by a grand jury. No bond has been set at this time.
Here are the official state charges for each officer involved:
Former Rankin County Sheriff Deputy Hunter Elward – charged with Aggravated Assault, Home Invasion, and Conspiracy to Commit Obstruction of Justice/Hinder Prosecution
Former Rankin County Sheriff Narcotics Investigator Christian Dedmon – charged with Home Invasion and Conspiracy to Commit Obstruction of Justice/Hinder Prosecution
Former Rankin County Sheriff Chief Investigator Brett McAlpin – charged with Obstruction of Justice/Hindering Prosecution in the First Degree and Conspiracy to Commit Obstruction of Justice/Hinder Prosecution
Former Rankin County Sheriff Lieutenant Jeffrey Middleton – charged with Obstruction of Justice/Hindering Prosecution in the First Degree and Conspiracy to Commit Obstruction of Justice/Hinder Prosecution
Former Rankin County Sheriff Deputy Daniel Opdyk – charged with Obstruction of Justice/Hindering Prosecution in the First Degree and Conspiracy to Commit Obstruction of Justice/Hinder Prosecution
Former Richland Police Department Narcotics Investigator Joshua Hartfield – charged with Obstruction of Justice/Hindering Prosecution in the First Degree and Conspiracy to Commit Obstruction of Justice/Hinder Prosecution
All six officers will be entering guilty to state charges on August 14. Sentencing will be on November 14-16.
Rankin County Sheriff Bryan Bailey has released the following statement on the deputies' charges:
"Deputies of this department are sworn to protect and serve the public and uphold all federal and state laws. We have approximately 230 men and women with this department who report to work every day and perform their duties in accordance with department standards. Based on today's arrests, five former deputies violated all such standards, their training, and my expectations of them. The badge worn by so many has been tarnished by the criminal acts of these few individuals. 
"Based on the facts in their guilty pleas, all former deputies lied to me the night of the incident. We have cooperated fully with all outside investigative agencies to uncover the truth and bring justice to the victims. We have also sought assistance from outside agencies and consultants to help us with repairing the trust within our community.
"I truly have tried my best to make the Rankin County Sheriff's Office one of the top departments in Mississippi. This incident and the crimes of these individuals has been devastating not only to the victims but also to the sheriff's office and the hundreds of men and women that work here. Ultimately, I believe we all want a safe place to live and raise our family. We all also want to have faith and trust in those who wear the sheriff's badge. You have my sincere promise that I along with every employee at the sheriff's office will work nonstop to obtain these goals."
Stay up to date with all of Mississippi's latest news by signing up for our free newsletter here. 
Copyright 2023 SuperTalk Mississippi Media. All rights reserved.