Around 200 hundred people attended a rally in Memphis on Sunday to publicly oppose a proposed crude oil pipeline that would run from Memphis to Marshall County, Mississippi.
According to the Byhalia Connection, the nearly 49-mile pipeline would connect two existing crude oil pipelines:
•The Diamond Pipeline, which provides the Valero Memphis Refinery with crude oil to produce gasoline and jet fuels used by people in eight states throughout this region, including Tennessee and Mississippi
• The Capline Pipeline, which runs between central Illinois and the U.S Gulf Coast
Vice President Al Gore, who spoke at the rally, said the reckless placement of the pipeline would run through lower-income, majority-black neighborhoods in South Memphis and over a major water aquifer.
"You know, somebody once said a gaffe is when somebody accidentally tells the truth," said Gore.  "When the pipeline representatives said this is the path of least resistance, that was a gaffe, because he told the truth accidentally.  Least resistance? I see a lot of resistance here today. If this does not suffice to convince the county commission and the city council to make the right decisions, this resistance ain't nothing compared to what they're gonna see if they try to keep going with this."
Click here to hear the entirety of Gore's speech and to hear from others who spoke at the rally.
"I really and truly believe that this is a reckless, racist rip-off.  I really do," said Gore.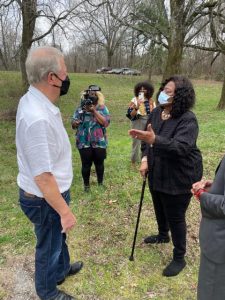 Actor Danny Glover has also publicly voiced his opposition to the pipeline.
RT: Serve the people not the pipeline. Given Valero and All Plains pollution violation records, please don't trust them to build the #ByhaliaPipeline over your constituents water supply (in an area with seismic activity) @I_am_Martavius @ChaseTheCEO @councilwomanpjr @MEM_Council pic.twitter.com/BWm6qu6GJl

— Danny Glover (@mrdannyglover) March 15, 2021
The Memphis City Council will meet this week to discuss council approval for projects such as the pipeline on city property. The county commission will decide whether or not to sell land in the county for the pipeline project.
The Byhalia Connection Pipeline is owned by Byhalia Pipeline LLC, a joint venture between a subsidiary of Plains All American Pipeline, L.P. (Plains) and a subsidiary of Valero. It will be constructed and operated by a subsidiary of Plains.
In an open letter to the community, Roy Lamoreaux, Vice President of Plains All American, addressed concerns and highlighted their contributions and commitment to the community.
Stay up to date with all of Mississippi's latest news by signing up for our free newsletter here. 
Copyright 2023 SuperTalk Mississippi Media. All rights reserved.