Jackson State University puts the spotlight on its amazing students in their #PeopleofJSU campaign. It allows students to share how they came to be a part of the JSU family.
So, Let's start with a snack – or should I say "Snacks".  You probably remember him.  "Snacks" was the Jackson State Team Manager who hit the world-famous three-pointer?
Never let anybody tell you what you " can't' " do. Stay Down and wait for your moment 💪🏾🥶 @espn @stephenasmith @BleacherReport @SportsCenter @HoHighlights @filayyyy @famouslos32 @KDTrey5 pic.twitter.com/XBp8g9kChX

— Thomas "Snacks" Lee (@BigHomie_Tom) March 3, 2020
Well, there's more to his story.  Thomas Lee, aka 'Snacks', is a senior recreation administration major from Jackson:
"My aunt was the one who brought me around the Jackson State athletic programs. We always attended all of the functions. She brought me around, and I just fell in love with the basketball program. I had a passion for being around basketball and the athletes, and they took me under their wing and treated me like the little brother of the program. I developed relationships with the players, working my way up from middle school through high school, and then getting a chance to be a manager here.
I had been joking with the (head) coach throughout the week and for the last two years about senior night. I was going to warm up with the team and everything. I didn't know, for sure, if he was serious. Then, one day, he said he was going to let me do it. It went from me being able to warm up to me being able to participate in the shoot-arounds and get in a real game. He motivated the guys during the pre-game and they went out and played hard for me so I would be able to get in the game. And I thank them for that, as well as the coaches for trusting me to be able to go out there with the guys. We actually needed that game for seeding purposes. So for us to be at this point in the season, where we're competing for placement in the tournament, I found it very significant that he gave me the opportunity to come out and dress out for senior night.
On the court, it didn't feel real. I felt like I was in the video game NBA 2K. It was like I was out there in MyPlayer mode. It was fast paced. I felt the crowd behind me, the players, all of the support staff, everybody that was in the gym. I felt the love, and I knew everybody wanted to see me get one shot to fall. That's what gave me confidence, shot after shot, to keep shooting it. Everybody's behind you and you're going to get a lot of support and recognition for it. I'm just glad I was able to make the shot and make the fans happy. Overall, it's just a great experience that I'll never forget."
---
Jalen, a senior music education major from Memphis, Tennessee, shares how trials and tribulations do not have to serve as roadblocks to success.  Here is Jalen's story: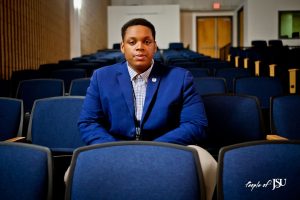 "My mother forced me into band. When I was a little boy I played football, and I suffered an injury prior to going into middle school. She wasn't too fond of me continuing to play football. But she told me I had to be in an extracurricular activity. She chose band because she tried it when she was in school. And I was already a little musically inclined. I'd been in church choir and had already been playing certain instruments, like guitar and piano. So, I got in the band and was put on the clarinet, of all instruments. I'm 6'4. I'm pretty big. I look like a football player. But I just fell in love with the instrument. It really became a coping mechanism for me, too.
My mother suffers from a mental illness: bipolar schizophrenia. She relapsed, and I had to live with my uncle for the latter part of my school career. But during those times that I'd be down because she was down, I could pick up the instrument and cheer us both up. Music was a release for me. That's why I'm so passionate about music and why I want to reach people through it. I want to get my doctorate, and I want my dissertation to be based on how music affects mental health.
I haven't heard from my mother in years. She didn't see me graduate high school, and she doesn't know that I'm about to graduate college. But one of the last things that she did for me was force me into band, and I'm forever grateful to her for that. So, instead of dwelling on the negative aspects, I just always try to remain positive and think about how my passion came from the fact that she forced me to do something when I was 10 years old. So, the least I can do is follow through with my passion. If she ever happens to see this, I want to tell her, 'Thank you.'"
---
You can read more incredible stories like these at #PeopleofJSU
Stay up to date with all of Mississippi's latest news by signing up for our free newsletter here. 
Copyright 2023 SuperTalk Mississippi Media. All rights reserved.