City officials in Madison and Gluckstadt are attempting to claim a four-square-mile section of land that lies between the two territories.
Madison's board of aldermen voted to expand the city's boundaries into the property in May, with Mayor Mary Hawkins Butler stating that the "proposed annexation has always been part of Madison's path of growth."
Gluckstadt Mayor Walter Morrison voiced his concern over the efforts to connect Madison's northern border to the city's southern boundaries shortly after, saying that it would impact Gluckstadt's ability to expand.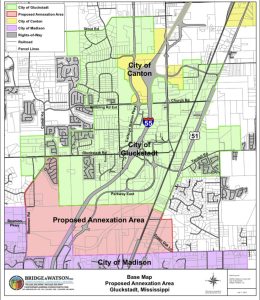 Morrison explained during an interview on SuperTalk Mississippi's Mary Wieden and You that the city has experienced an increase in growth since it was incorporated in 2021.
"We've got new businesses that open up all the time," Morrison said. "A lot is happening up there and we really appreciate the opportunity that we have been able to influence the manner in which the city has developed in the last two years. That's our hope, that we can continue to grow but in a wise fashion that makes a lot of sense for everybody."
According to Morrison, Gluckstadt officials are planning on using the area of land for further commercial and residential development over the next few years.
"One of the problems that the city has… is that there's not a lot of available land right now," Morrison explained. "I think there is an opportunity there for us to influence the way in which it is developed over the next many years so that we don't run into many of the problems that we are running into now with regard to the manner in which our city was developed before we became a city."
It's been 15 years since the city of Madison was last approved by the Mississippi Supreme Court to add on approximately 13 square miles of land.
Continue watching the full interview below.
Stay up to date with all of Mississippi's latest news by signing up for our free newsletter here. 
Copyright 2023 SuperTalk Mississippi Media. All rights reserved.