Radar Image courtesy of AccuWeather, RAMMB/CIRA
Currently a Category 2 system, Hurricane Ida is projected to make landfall around Morgan City, Louisiana late Sunday night/early Monday morning. This afternoon, Governor Tate Reeves, along with the Mississippi Emergency Management Agency provided the latest update on the storm that is expected to strengthen as it moves throughout the Gulf of Mexico. 
The storm's arrival along the Louisiana coast would place it at Mississippi's border around 7 a.m. Monday, however, South Mississippi will likely begin to feel its effects sooner. Forecasters predict that Ida, which is currently 400 miles southeast of New Orleans, could become a Category 4 storm by the time it reaches the Coast.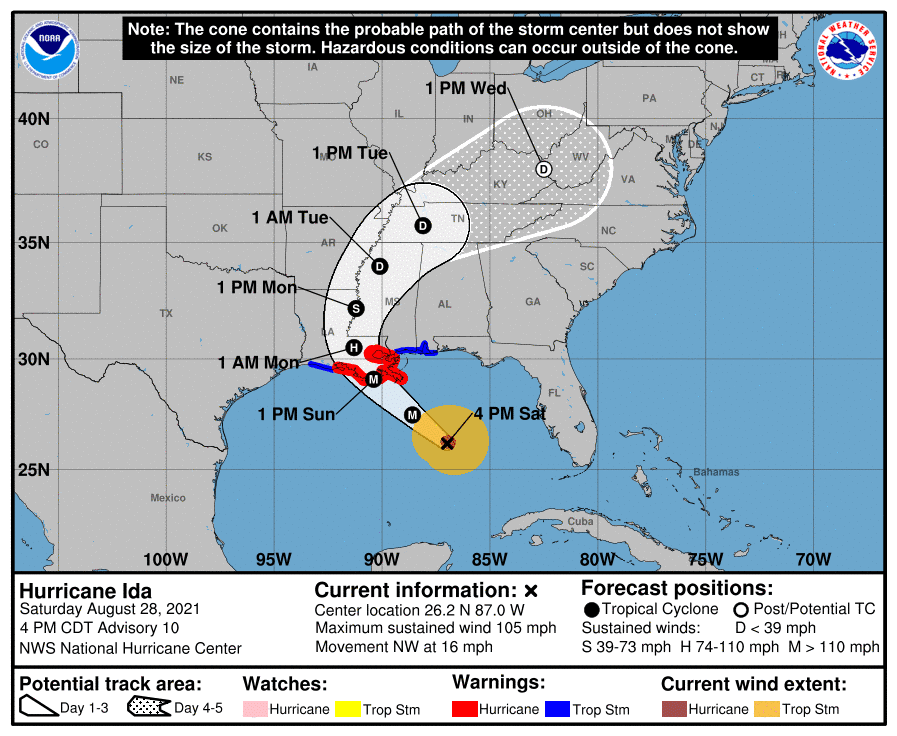 If its current track holds, Governor Reeves noted that Hancock County could experience a storm surge of anywhere between 7-11 feet with the surge in Harrison and Jackson Counties reaching 4-7 feet. MEMA Executive Director Stephen McCraney put that figure into perspective. 
"11 feet of surge…I can't dunk a basketball. If you can't dunk one, 11 feet. That's a lot of water and it's not stagnant water, it is moving water. It's going to move your vehicle, it will swamp your vehicle and take it downstream," he said.
Rainfall totals on the Coast could fall between 6-10 inches with 4-6 inches of rain expected throughout the rest of the state. 
Currently, several shelters are operational, including the Mississippi State Medical Needs Shelter in Stone County, with others on standby. For a list of open shelters, click here. McCraney stated that no one will be turned away from a shelter and that MEMA will provide PPE if needed. 
An evacuation order has been issued for Hancock County residents that live in low-lying areas.
In order to expedite the movement of resources throughout the state, the governor signed a state of emergency declaration. Governor Reeves also shared that the state has preemptively requested a federal emergency declaration.
The governor's office and MEMA have been coordinating with counties to deliver the necessary resources ahead of the storm's arrival. As local governments prepare, McCraney says that you should too.
"Today is the day that you need to prepare," he said. "This is it. You've got until about 'Dark Thirty' and then in the morning, things are going to start picking up. Winds are going to start picking up. Some parts of the state, you're going to have 35-45 mph winds and there's going to be a lot of debris contained within those. So, let's make sure any preparations that you need to do, let's finish that up today."
MEMA urges you to develop and review a family emergency plan, learn evacuation routes and assemble a three to five-day disaster supply kit that should contain:
Flashlight and battery-powered radio with additional batteries.
Canned and non-perishable food.
Bottled water.
Toiletry items.
Pet food and pet supplies.
Medicine and prescription medication.
Copies of important family papers and documents.
Personal protective equipment
For a look at Mississippi's evacuation routes, click here. MEMA also recommends filing up your gas tank in case of an evacuation. 
Jim Craig, Director of Health Protection for the Mississippi State Department of Health, warned that power loss will be a concern and that public drinking water systems could be affected. Watch for boil water notices if you lose power at any point. FEMA and MEMA have generators ready should healthcare facilities lose power. Vaccinations and testing at Central and South Mississippi MSDH county health departments will be cancelled for at least Monday, August 30 and Tuesday, August 31. Craig also asked that everyone observe social distancing and make guidance in shelters. The MSDH provides food safety and other storm-related health guidance on their website. 
Craig shared that officials are better prepared to face the challenges of a major hurricane than they were when Hurricane Katrina hit 16 years ago Sunday. 
With many from Louisiana fleeing the storm, there may be increased traffic on Mississippi's interstates. Governor Reeves asked Mississippians to avoid the interstates and take backroads to ensure evacuees can make it too their destinations quickly. 
Watch the full briefing below:
Stay up to date with all of Mississippi's latest news by signing up for our free newsletter here. 
Copyright 2023 SuperTalk Mississippi Media. All rights reserved.