This morning, Governor Tate Reeves and Colonel Greg Michel, the Executive Director of the Mississippi Emergency Management Agency, held a press conference to provide the latest updates on Tropical Storms Marco and Laura.
While it continues to bring the threat of significant rainfall, Marco, after being downgraded from a hurricane back to a tropical storm, continues to weaken as it prepares to make landfall around the Louisiana/Texas border later tonight or early Tuesday morning. Governor Reeves did state that Mississippi's lower three coastal counties could begin to see tropical storm-strength winds and rainfall around 2 p.m. this afternoon. Marco could drop 4-6 inches of rainfall on the Mississippi Coast.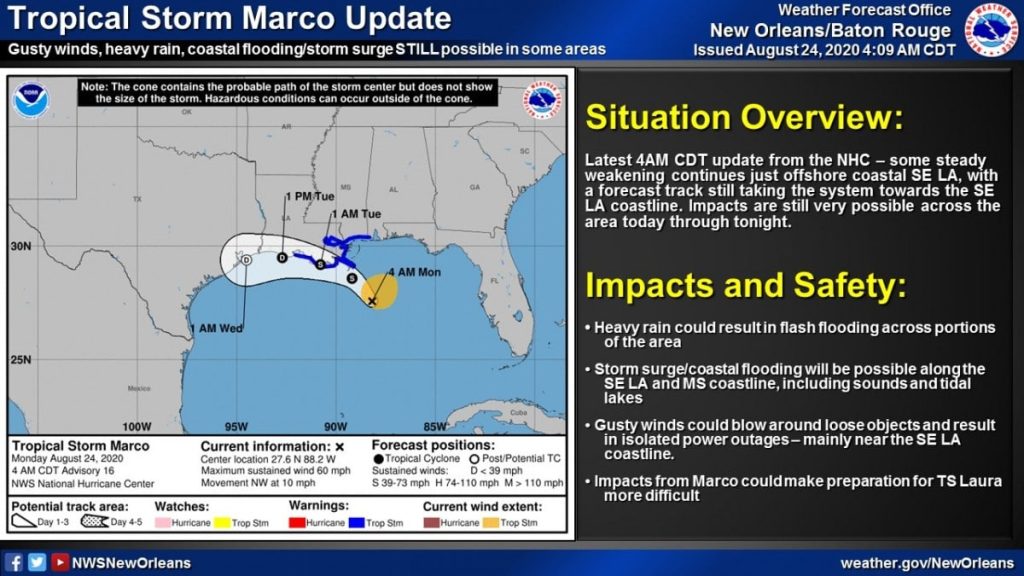 Colonel Michel stated that Laura, which could strengthen into a hurricane as it enters the Gulf of Mexico, is currently on track to make landfall late Wednesday/early Thursday — once again around the Louisiana/Texas border. He went on to say that the 4 a.m. (Tuesday morning) hurricane update will be the one he will be "most interested in" as the storm enters the Gulf.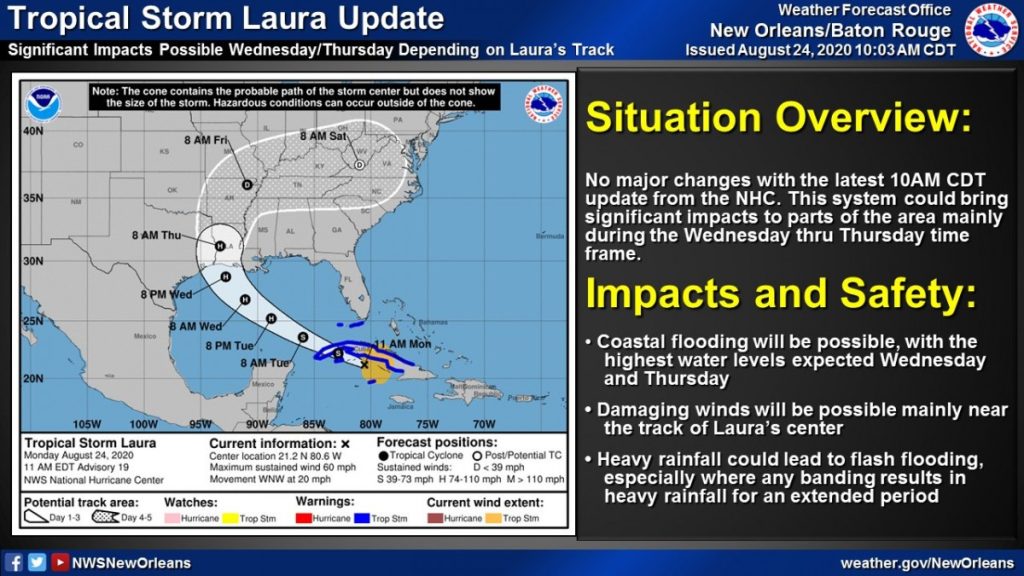 Governor Reeves stated that officials are projecting a 2-4 foot storm surge associated with Laura. Additionally, its projected path could also bring "significant" rainfall to NW Mississippi following a right turn later in the week.
Michel stated that shelters will open on an as-needed basis, but he urged you to use them as a last resort due to the additional risk associated with a crowded shelter due to COVID-19. Now is the time to develop your evacuation plan and prepare your disaster supply kit, which should include:
Flashlight and battery-powered radio with additional batteries.
Canned and non-perishable food.
Bottled water.
Toiletry items.
Pet food and pet supplies.
Medicine and prescription medication.
Copies of important family papers and documents.
Personal protective equipment
Both Governor Reeves and Colonel Michel stressed that everyone should expect the unexpected as these storms approach, noting that they could change course at a moment's notice.
Watch the full press conference below:
SuperTalk Mississippi LIVE https://t.co/0MkYzy90Bq

— SuperTalk Mississippi (@supertalk) August 24, 2020
Stay up to date with all of Mississippi's latest news by signing up for our free newsletter here. 
Copyright 2023 SuperTalk Mississippi Media. All rights reserved.