From whiskey to washing up! Cathead employees had to pivot rapidly from making alcohol to making hand sanitizer for Entergy and others. Afterward, they provided barrels of the product to the community for free.
During a pandemic, a power outage could be catastrophic. So, it is vital to keep the health crisis from hitting the front lines of a utility company's workforce.
When a national shortage of hand sanitizer threatened, Dillon Allen was one Entergy employee tasked with finding enough of the product to supply thousands who are working to keep the power flowing.
"I had been researching distilleries that had turned to making hand sanitizer and reached out to a friend at the ABC (Mississippi's Alcoholic Beverage Control) who put me in touch with Cathead Distillery in Jackson," said Dillon, a senior manager with Entergy Nuclear. "It turned out they were already making the product, but in very small amounts as they were having issues getting raw materials."
Allen knew that Entergy would need a lot of the product. He also knew that Entergy's suppliers could likely provide the raw materials that Cathead needed. Through innovation and collaboration, "Comfort & Mercy" hand sanitizer was born, so named for the U.S. Navy's two floating hospitals currently docked in New York City and Los Angeles to help during the COVID-19 pandemic.
"Our everyday business, making vodka, bourbon and other spirits, was hurting with the restaurants and bars closed," said Majure Markow, Cathead's vice president of sales. "Having a true partner in Entergy has been integral in allowing us to ramp up production. It has 100% kept our production team in place."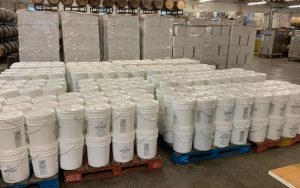 So far, Cathead has made 42 tons of hand sanitizer, much of which has gone to Entergy's nuclear plants, its transmission division and other functions throughout the company's service area in Arkansas, Louisiana, Mississippi and Texas. The distillery is also supplying the Mississippi Emergency Management Agency and the Mississippi Department of Transportation.
Manufacturing these large amounts has allowed Cathead to meet another goal—produce free hand sanitizer for the community. Barrels were set up in Jackson at a Wal-Mart and three Corner Market grocery stores, where customers could get up to 12 ounces for free.
Cathead is one of many distilleries around the country that began making hand sanitizer after the Alcohol and Tobacco Tax and Trade Bureau waived certain regulations that prevented them from doing so. Entergy is also sourcing from Rich Grain Distilling Co. in Canton, Miss., Seven-Three Distilling Co. in New Orleans and others to fulfill the needs of its workforce.
In addition, Entergy formed a logistic team to help distribute the sanitizer to those who needed it most in the New Orleans area. The team researched and ordered bottles and bottling supplies; designed, printed and affixed labels, and created a streamlined process to repackage and distribute individual bottles of sanitizer to fellow employees.
In fewer than six days, the logistics team produced 1,420 refillable bottles of hand sanitizer that were distributed to more than 450 employees working in transmission asset management and distribution operations in the Crescent City.
To learn about other ways that Entergy is helping its customers, communities, and employees during the pandemic, visit its COVID-19 webpage
Stay up to date with all of Mississippi's latest news by signing up for our free newsletter here. 
Copyright 2023 SuperTalk Mississippi Media. All rights reserved.