Hattiesburg teen Aubri Sparkman has been announced as the runner-up in the 23rd annual "Stuck at Prom Scholarship Contest" for her creation of a duct tape dress.
Sparkman, who is the youngest artist in her hometown to have a public mural, was selected to compete against four other finalists after submitting a music-themed dress.
According to Sparkman, the dress took approximately 66 hours to make using 14 rolls of duct tape and other materials, such as hot glue and zippers.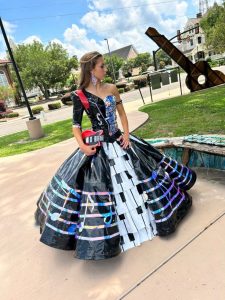 "I did use a few extra things just to lay it on top of a plastic tablecloth and some paper, but the majority of it is definitely duct tape," Sparkman said.
The 17-year-old high school student explained that she experimented with duct tape for a while before deciding to officially enter the competition.
"I did make a miniature model version of it first to just kind of see if I could actually use duct tape," Sparkman said. "It did take a lot of experimenting and starting over, but in total, this dress took about 66 hours. Duct tape is not the easiest thing to make clothing out of."
Sparkman stated that her inspiration to make the dress music-themed came from her love to learn how to play different instruments and incorporate her musical talent into other forms of art.
"Music has been a big part of my life. I play a lot of instruments, so I always try to include music in a lot of my art," Sparkman said. "I included several instruments that I play. I put the violin, the electric guitar, piano, and tambourine in the dress design as well."
Sparkman walked away with a $500 cash scholarship, as well as a $100 Duck Brand prize package in the dress category after the votes were tallied.
Stay up to date with all of Mississippi's latest news by signing up for our free newsletter here. 
Copyright 2023 SuperTalk Mississippi Media. All rights reserved.