Last week, the Mississippi State Department of Health stated that Mississippi is in the midst of a hepatitis A outbreak with 23 confirmed cases since April. 
The cases are spread out over 14 counties across the state, with the highest number of cases at 5 in Pearl River County.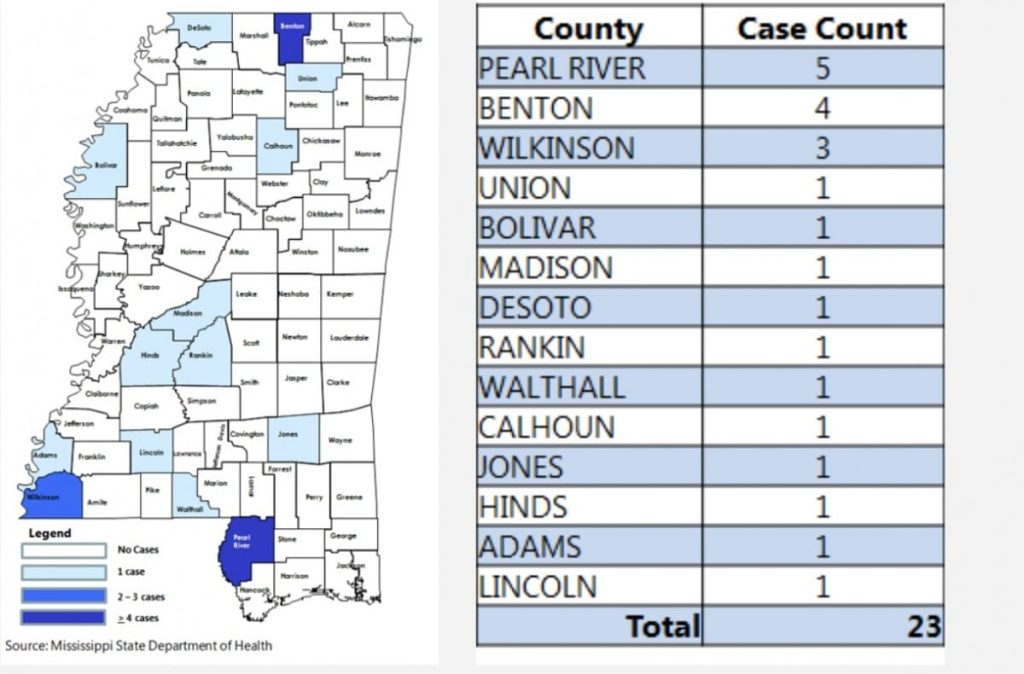 Among the confirmed cases, there has been a hospitalization rate of 61%. 
State Epidemiologist Dr. Paul Byers explained that an outbreak occurs when they see an increased number of cases greater than what is normally expected over time. The 23 cases since April are already 10 more than the state experienced in all of 2018.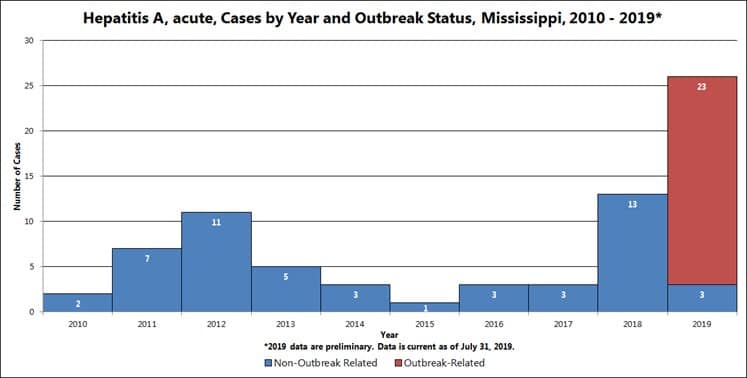 Hepatitis A is a contagious liver disease that can be spread when a person ingests the virus through food or drink that is contaminated with the feces of an infected person or through close, personal contact (including sexual contact) with an infected person; including sexual contact and sharing or handling objects with someone who is infected.
Related: MSDH investigating hepatitis A exposure in North Mississippi
Symptoms of hepatitis A include nausea, diarrhea, and vomiting; jaundice (yellowing of the skin and eyes); and stomach pain, low appetite and fever.
Hepatitis A can be prevented through a vaccine. Other prevention measures include practicing strong hygiene habits such as thoroughly washing your hands after using the bathroom.
"We are strongly recommending that all persons who are at higher risk get hepatitis A vaccine," said Byers. "Hepatitis A vaccine can be obtained through your provider, pharmacist and at all County Health Departments for uninsured or underinsured persons," said Dr. Byers.
For more information on hepatitis A, visit the MSDH website at HealthyMS.com/hepA.
Stay up to date with all of Mississippi's latest news by signing up for our free newsletter here. 
Copyright 2023 SuperTalk Mississippi Media. All rights reserved.