While case numbers, hospitalizations and ICU patients remain above previous peaks, Mississippi's top health officials said this afternoon that we are beginning to experience some stabilization among these indicators. 
After reporting nearly 86,000 total cases in the month of August—the highest number of cases in a single month—State Epidemiologist Dr. Paul Byers expressed a hope that the stabilization will result in decreases in the coming weeks. State Health Officer Dr. Thomas Dobbs says that time will tell. 
The better that we do at both preventing transmission and getting vaccinated is going to help up out of that," Dr. Dobbs said.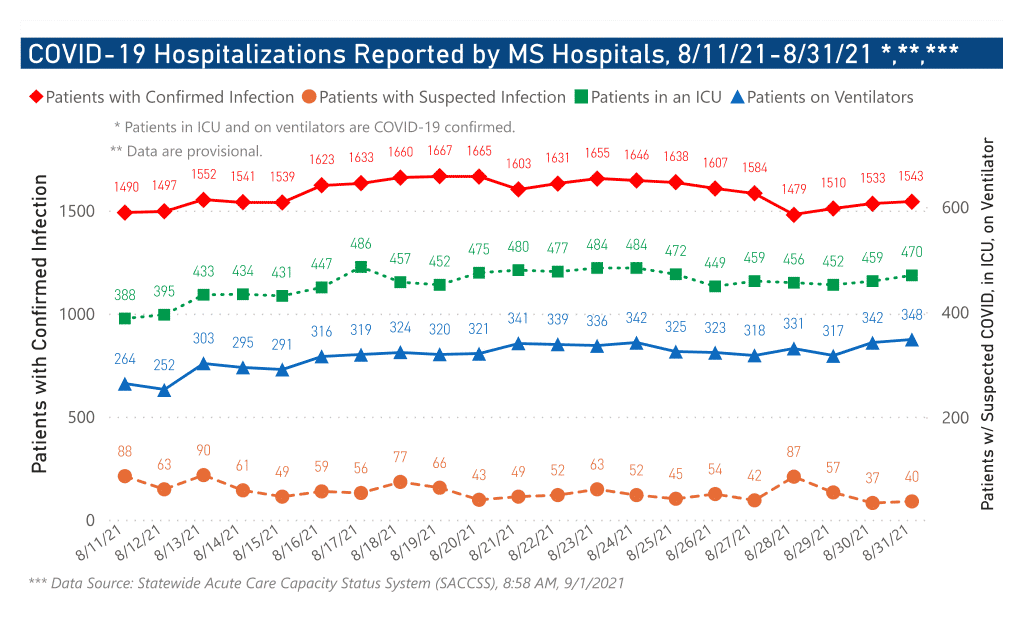 As of this morning, there were 13 ICU beds available in Mississippi, but 213 patients were waiting on beds. 
Dr. Dobbs also shared promising data from an Israeli study showing that natural immunity seems to be "really helpful" in preventing future infection while stating that you should still get vaccinated even if you've had COVID-19. 
"We know that [the vaccine] will greatly augment your immunity, and it deceases the risk of reinfection by half," he said while noting that Mississippi needs 85% of its population to be immune to achieve a steady, low rate of transmission. 
After seven straight weeks of increases, vaccinations saw a sight dip last week with 75,549 total doses administered. Currently, 99% of Mississippi's new cases are among the unvaccinated as are 87% of hospitalizations and deaths. 
The latest school data shows that 23,450 students were quarantined last week. While that number is lower than the previous week, 166 less schools reported data this week. 
Director of Health Protection Jim Craig shared that several boil water notices remain in effect due to Hurricane Ida and outlined what to do if your area is under such a notice. 
Do not drink tap water.
Do not use ice made from recent tap water.
Do not use tap water to make drinks, juices, or fountain soft drinks.
Cook with tap water ONLY if food is boiled for at least one minute.
Wash dishes, fruits and vegetables in boiled water or water that has been disinfected with bleach. Using your home dishwasher is not recommended.
Brush your teeth with boiled or bottled water.
Wash your hands and bathe as usual. Bathing is safe as long as no water is swallowed.
Wash laundry as usual. Laundry washed in hot or cold water is safe.
To disinfect water, bring it to a rolling boil for one minute to kill most organisms.
Stay up to date with all of Mississippi's latest news by signing up for our free newsletter here. 
Copyright 2023 SuperTalk Mississippi Media. All rights reserved.