Image above: UM alumnus Ben Napier helps install a bar top he created at McCormick's, the new full-service restaurant and bar at The Inn at Ole Miss. Photo by Bill Dabney/UM Foundation
---
McCormick's bar and grill in The Inn at Ole Miss received the finishing touch recently with the installation of a bar top handcrafted by Ben Napier, University of Mississippi alumnus and star of HGTV's "Home Town."
Napier, a 2007 UM graduate from Laurel, delivered the bar top Friday (Aug. 6) and helped with its installation.
"Kirk Purdom (executive director of the Ole Miss Alumni Association) reached out to me directly (about designing the bar top)," Napier said. "He knew that the University of Mississippi is a special place to (wife) Erin and me. We got engaged at Square Books, got married at Paris-Yates Chapel and spent our wedding night at the inn.
"With me being a woodworker who actually learned my craft in the art department of Ole Miss, Kirk knew I'd jump at this opportunity."
The Inn at Ole Miss was granted resort status in 2018, and the Alumni Association, which operates the hotel, announced plans in December 2019 to convert the existing café into McCormick's, a full-service bar, restaurant and lounge. McCormick's opened in September 2020, allowing the inn to provide long-requested services and be a gathering space for guests and the general public to enjoy.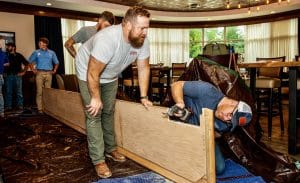 For his part in crafting something particularly special suitable for such a unique place, Napier said he wanted to draw from the beauty and atmosphere of the Ole Miss campus.
"After contemplating a live-edged piece, I ultimately decided that it would feel too rustic for Mississippi's flagship university and decided that a nice shaped edge would be best," Napier said. "Something that feels good resting forearms against after beating an SEC West team."
The finished piece perfectly matches the atmosphere at McCormick's, Purdom said.
"We couldn't be happier with the finished project that serves as a cornerstone of the Alumni Association's mission to foster community, communication and connections for current and future Ole Miss alumni and friends," he said.
"It also serves as an excellent entertaining space for event planners and groups that utilize our meeting spaces in The Inn at Ole Miss. We hope that it will become part of everyone's trip to campus on home football weekends this fall."
---
Story by Jim Urbanek, University of Mississippi Marketing & Communications