With a 114-6 vote, the Mississippi House of Representatives has passed a major increase in teacher pay.
The "START Act of 2022" will alter the starting pay for teachers in Mississippi from $37,000 to $43,125, exceeding both the regional and national averages.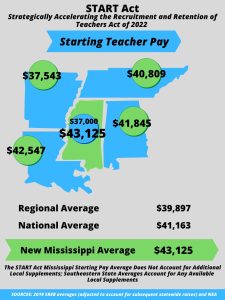 On Tuesday, the House Education Committee responded to the Senate's teacher pay proposal with one of its own that will increase all teachers from $4,000 to $6,000 per year. The House committee's proposal also provides a $2,000 raise for teacher assistants, something that was not included in the Senate's proposal.
One day later and members of the House voted to pass their $219 million plan.
"In the last 10 years we've made incredible gains in education in Mississippi with higher graduation rates and higher student performance than any time in our state's history," House Education Committee Chairman Richard Bennett said. "We owe this to the incredible work of our teachers. This is our opportunity to step up and pay them competitively for all of their hard work."
The bill will now head to the Senate for their consideration.
Stay up to date with all of Mississippi's latest news by signing up for our free newsletter here. 
Copyright 2023 SuperTalk Mississippi Media. All rights reserved.