Photo courtesy of Ole Miss Athletics/Joshua McCoy
Story by SportsTalk Mississippi's Ole Miss Beat Reporter Brian Scott Rippee
As the calendar turned from May to June and postseason baseball beckoned, Zack Phillips felt compelled to up his game.
So he went to Walmart.
The day before Ole Miss returned to Swayze Field for its opening game of the NCAA Tournament, Phillips meandered through the aisles of the Oxford Walmart in search of a mask. Not just any mask, though. At the request of a collection of fans on Twitter, Phillips — the newly-minted dugout theatrics savant — was in search of a Teenage Mutant Ninja Turtles mask. Inspired by former Ole Miss pitcher Evan Anderson, who donned the Turtles' likeness during Ole Miss' postseason run to Omaha in 2014, Phillips wanted to add another look to his arsenal of dugout ensembles.
"I wanted to do something to help the team," Phillips said. "Some fans on Twitter were sending me some pictures of, I believe his name is Evan, from the 2014 team being the turtle and saying I should do it."
Phillips purchased a blue eye mask, imitating Leonardo while Anderson appeared to be imitating Raphael in 2014, the turtle that dons a red mask. The dugout antics began roughly two weeks at the SEC Tournament in Hoover, a place where Ole Miss arrived as a team without a pulse, floundering amidst a 1-6 end to the regular season. Phillips wanted to help loosen the mood.
Who wore it better? Evan Anderson in 2014 or @Zackarie_25?@OleMissBSB @NCAACWS pic.twitter.com/0swXUTbPdi

— OleMissPix (@OleMissPix) June 3, 2019
"I always have just looked to do something to help out this team," Phillips said. "I am a laid back guy. I do not really care what people think."
Inspired by Houston Roth taping a banana to his head in the ninth inning of Ole Miss' 1-0 win over Texas A&M in what was dubbed 'The Hunicorn', Phillips began assembling costumes from items in the dugout. He attached cups to his ears, put a belt over his shoulder and draped a towel over his face. Ole Miss scored in the ninth inning to beat Texas A&M that day and Phillips' dugout creations took on a life of their own.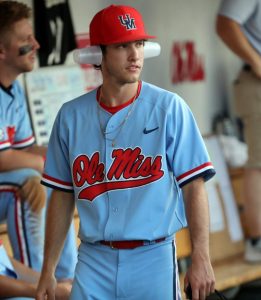 Phillips isn't without help. Friday night starter Will Ethridge has jumped in. Ethridge dressed as Clifford the Big Red Dog during the regional. Phillips appreciates the help, but wants to be clear that he is running this production.
"If you see Will (Ethridge) in the dugout, they are calling him my tag team partner," Phillips quipped with a grin. "But he has no clue what he is doing. He was trying to be Clifford and no one knew what he was doing."
The Rebels won three straight elimination games in Hoover en route to their second consecutive SEC Tournament championship game. The six-day run changed the course of the club's season, breathing a pulse into a once lifeless club. The idea of Ole Miss hosting a regional seemed like a ship that had sailed off into the distance when the team arrived in Hoover. They left as the No. 12 national seed.
In a lot of ways, Phillips' dugout behavior is emblematic of the looser attitude this team has taken into the 2019 postseason. Mike Bianco described the Rebels as being 'in a dark place' at the end of the regular season, only to find themselves in Hoover, as he put it. No one on the team has been able to pinpoint what exactly changed or when the change occurred, but the Rebels began to play more freely. Bianco was self-deprecating in postgame press conferences. He seems to smile and joke a bit more. His players seem more relaxed. The dugout is lively, in large part thanks to Phillips. They're certainly having more fun and the results have been favorable.
"We found some confidence and found ourselves again," Bianco said. "Part of that is being able to let our hair down a little bit. I kind of got on to them a little bit like 'have you guys never heard of rally caps? We need to do something here.' It opened up a can of worms so to speak, because it is more than rally caps. It is unicorns and Clifford the Big Red Dog."
Phillips has also found himself individually, and it goes beyond his desire to have fun in the dugout. A junior college product from Texarkana, Arkansas, the left-hander began the season as Ole Miss' Saturday in the weekend rotation. He struggled mightily. Phillips reached the sixth inning just once in his first five outings. He gave up five runs, four earned on six hits in 2.2 innings in his debut against Wright State. Tulane charged him for four more runs on six hits the next week. He lasted less than two innings in his first SEC start against Alabama. Phillips' mechanics were out of sorts and his command slipped as a result. This led to elevated mistakes and he was punished for them more times than not.
"At the junior college level, you get away with some of the bad pitches you make," Phillips said. "Here, if you make a mistake it is going to get hit. I had to tone down my mistakes and make fewer of them."
He was pulled from rotation the weekend after his brief outing against Alabama. Doug Nikhazy threw 7.2 innings of two-hit, shutout baseball in his place. Phillips came out of the bullpen for the first time in the series finale. He allowed three hits and did not record an out. A failed weekend starter and infective out of the bullpen, what was Phillips' role?
"I knew I needed to figure it out," Phillips said. "I knew I needed to help this team in some way and get it together. They told me I was going to pitch. I worked more and more on my mechanics and figured it mentally."
Bianco slid Phillips into the midweek stater role and let him work out some of his issues in live action. Phillips began to find himself, slowly but steadily. He threw 4.1 innings of two-run ball in a midweek win against Southern Miss at Trustmark Park, followed by six innings of the same the next week at Memphis, and then 5.1 innings of two-run baseball again against Mississippi State.
Phillips' stuff has never been the issue. His mechanical dysfunction led to him losing grasp of his command, but he possesses a fastball that hovers around 90 mph with good movement, complemented by a slider and a changeup. Phillips relies heavily on his fastball, and as his command has improved, so has his level of success. He's pitched into the sixth inning in four of his last five starts, sans his start in the SEC Tournament championship game against Vanderbilt on three days rest. The impromptu start against the Commodores notwithstanding, Phillips has a 0.98 WHIP since being demoted from Saturday starter. He's transformed himself from liability to one hell of an insurance policy as Ole Miss barrels deeper into the postseason.
Tomorrows are a scarcity in postseason baseball. The margin for error is slim. A single misplaced pitched or bobbled ball can crush a team's dreams. Phillips can relate to adapting to a shrinking window for mistakes.
"Living at the knees," Phillips said. "All of my life, I could miss belt high and get away with it. Here, if I miss belt high it is going to get hit. Just living at the knees consistently."
Ole Miss didn't throw Phillips this past weekend as it plowed through the Oxford Regional in three games. But had there been a game four, the Rebels' season would've been on the line and Phillips would've been handed the baseball. He will not start a game this weekend in Fayetteville. But should something go awry, a left-handed arm out of the bullpen to provide long relief will go a long way in stabilizing a game.
"To have someone that can give you length out of the bullpen is huge," Bianco said. "Zack is a guy that has had a lot of success for us over the last couple months."
If the Rebels were to advance past the super regional round, heading to Omaha with four SEC-weathered starters is a luxury not all eight teams will possess. Ole Miss is going to need Phillips at some point and the circumstance will be of paramount importance in all likelihood. He knows this.
What is Zack Phillips' role?
"Swiss Army Knife is what Coach Lafferty calls me," Phillips said. "Whatever they need me, I am there for."
The answer to that question is a bit more clear than it was three months ago, and it pertains to both dugout and the pitcher's mound.
Stay up to date with all of Mississippi's latest news by signing up for our free newsletter here. 
Copyright 2023 SuperTalk Mississippi Media. All rights reserved.