Images courtesy of the Mississippi Emergency Management Agency archives
---
Hurricane Camille made landfall on the evening of August 17, 1969, along the Mississippi Gulf Coast near Waveland.
According to the National Weather Service (NWS), Camille is one of only four Category 5 hurricanes ever to make landfall in the continental United States (Atlantic Basin).  The others include the 1935 Labor Day Hurricane, which impacted the Florida Keys; Hurricane Andrew in 1992, which impacted south Florida; and Hurricane Michael in 2018, which impacted the Florida panhandle.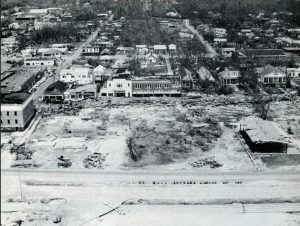 On August 14th, Camille formed just west of the Cayman Islands and rapidly intensified.  By the time it reached western Cuba the next day, Camille was a Category 3. It tracked north-northwestward across the Gulf of Mexico and became a Category 5 hurricane on August 16th.
The hurricane maintained this intensity until it made landfall along the Mississippi Gulf Coast late on the 17th.  Camille weakened to a tropical depression as it crossed Mississippi into western Tennessee and Kentucky, then turned eastward across West Virginia and Virginia. The cyclone moved into the Atlantic on August 20th and regained tropical storm strength before becoming extratropical on the 22nd.
Here is an interesting fact:  The NWS says the actual maximum sustained winds will never be known, as the hurricane destroyed all the wind-recording instruments in the landfall area. The estimates on the coast are near 200 mph. Columbia, MS, which is located 75 miles inland, reported 120 mph sustained winds.
A storm tide of over 24 feet occurred at Pass Christian and the heaviest rains which occurred along the Gulf Coast totaled about 10 inches.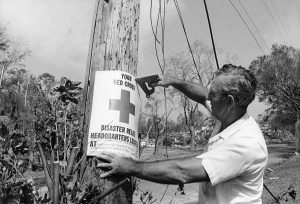 As Camille passed over the Virginias, it produced 12 to 20 inches of rain with local totals of up to 31 inches. Most of this rain occurred in 3 to 5 hours and caused catastrophic flash flooding.
The National Weather Service says the combination of winds, surges, and rainfalls caused a total of 256 deaths and $1.421 billion in damage.
Stay up to date with all of Mississippi's latest news by signing up for our free newsletter here. 
Copyright 2023 SuperTalk Mississippi Media. All rights reserved.