The Justice Act has stalled in the Senate and a Mississippi Senator is speaking out.
Mississippi's U.S. Senator Cindy Hyde-Smith decried Senate Democrats' decision to deny Senate debate on significant police reform legislation, asserting that blocking the bill leaves the nation with "irresponsible demands to defund the police, destruction of public property, and violence."
Just one week after the introduction of the JUSTICE Act (S.3985), Democrats blocked a procedural vote to begin debate on the bill.  The legislation incorporates broad bipartisan reforms to restore public trust by improving community safety through police training reforms and greater law enforcement accountability.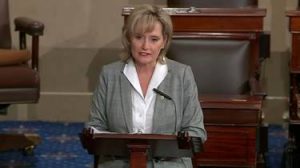 "I'm ready to take up this legislation if and when the Democrats choose to do the right thing for our nation," Hyde-Smith said.  "I am disappointed that given the chance to back up a lot of big talk about reform and change, Senate Democrats decided to simply stop the debate.  Instead of deliberating and amending a strong bill to implement public safety changes the American people believe are needed, we will get nothing."
"We're missing an opportunity to work together to help bind the nation together.  By refusing to even consider a debate, Senate Democrats leave the American people with irresponsible demands to defund the police, destruction of public property, and violence," she said.
Hyde-Smith, an original cosponsor of the JUSTICE Act, was prepared to file an amendment authorizing a report on the officer training at law enforcement training academies, as well as a demonstration program for standardization of training at these academies.
Authored by Senator Tim Scott (R-S.C.), the bill would expand reporting, and transparency in hiring, and training for de-escalation.  It also incorporates these bipartisan measures:  Closing the Law Enforcement Consent Loophole Act, National Criminal Justice Commission Act, Justice for Victims of Lynching, Commission on the Social Status of Black Men and Boys Act, and Reauthorization of COPS program.
Earlier this month, Hyde-Smith cosponsored Senator Tom Cotton's (R-Ark.) resolution (S.Res.613), which calls for justice for George Floyd and opposes calls to defund the police.  Minority Leader Charles Schumer (D-N.Y.) blocked consideration of the measure.
Stay up to date with all of Mississippi's latest news by signing up for our free newsletter here. 
Copyright 2023 SuperTalk Mississippi Media. All rights reserved.