A father's love and the power of social media created the perfect opportunity for one Mississippi child to meet a hero who shares many similarities.
Luke Mann is a 13-year-old baseball player from Brandon. He wears number 11, bats left-handed, throws right-handed, and is an infielder defensively. Ironically, the Missouri Tigers also have an infielder named Luke Mann who wears number 11, bats left-handed, and throws right-handed.
After keeping an eye on the Missouri player throughout his college career, Jacob Mann, the 13-year-old's father, decided to take a leap of faith in hopes of connecting his son with the All-SEC player with whom his son shares so much in common.
Jacob took to Twitter to make it known that he and Luke would be traveling to Hoover, Ala. in an effort to meet up with the Tigers' third-baseman. Shortly after posting the tweet, Luke Mann responded to Jacob's announcement.
"About an hour later, I received a direct message, and it was from (Missouri's) Luke," Jacob Mann said on Good Things with Rebecca Turner. "He said, 'Hey man, I saw your tweet, I would love to connect with you guys. We play Tuesday night. Connect with me pregame, postgame, and I'll catch up with y'all to sign some stuff.'"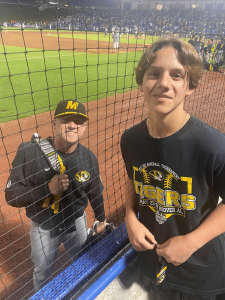 Before the game began, the Missouri infielder spotted Jacob and his son, then proceeded to hand the teenager the nametag he had on his bat bag. Mann had to return to his teammates for the remainder of warmups as well as the game itself but expressed interest in meeting up with the duo again afterward.
The game ensued, with Missouri losing to Auburn 10-4, ending the Tigers' run in the conference tournament, causing Jacob and his son to feel a sense of hesitation to reach out to an emotional Luke Mann. Nevertheless, a parent of a different Missouri player gave the 13-year-old her customized Luke Mann hat and encouraged the father-son duo to speak to the third-baseman once more.
"It's just special. He's this down-to-earth guy. He's just nice and as friendly as he can be," Jacob Mann told SuperTalk Mississippi News after the game. "He gave Luke that bat tag. He signed Luke's jersey from school. He signed a baseball for him and he took several pictures."
Despite losing on what is believed to be Missouri's last game of the season, barring an unanticipated NCAA Tournament selection, the Brandon father said that Missouri's Luke Mann could not have been more gracious with his time, realizing that the uniqueness of the coincidence was much larger than the game of baseball.
"It was really cool meeting him," 13-year-old Luke Mann said. "You're probably not going to find somebody that famous with the same name as you ever again."
Though the night was bittersweet for the Missouri infielder, the unexpected impact he had on one Mississippi teenager will leave a family with a lifetime of cherished memories.
Stay up to date with all of Mississippi's latest news by signing up for our free newsletter here. 
Copyright 2023 SuperTalk Mississippi Media. All rights reserved.