The Russell C. Davis Planetarium in Jackson, Mississippi, was presented two monetary gifts totaling $1.5 million on Tuesday afternoon by the Junior League of Jackson and the Community Foundation of Mississippi.
The donations were given as a part of the Jackson Planetarium Renovation Project, as the planetarium closed its doors in 2018 due to roof and interior problems.
The total was created as the Junior League of Jackson donated $500,000 and the Community Foundation of Mississippi donated $1 million.
A ceremony was held at the planetarium's site, with the first phase completed in 2021 and an anticipated opening in 2023.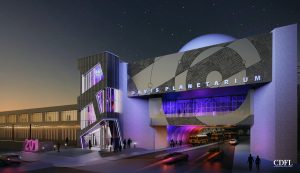 The Jackson planetarium first opened in 1979 as the only public planetarium in Mississippi, with future tickets sales to generate between $600,000 to $900,000 alone after the renovations are complete.
With a 60-foot diameter projection dome, the planetarium is among the largest in the United States, with only 25 other planetariums equaling or exceeding its size.
Renovations include a new atrium and exhibits that highlight the history of space and travel that Mississippi has contributed to the world.
Stay up to date with all of Mississippi's latest news by signing up for our free newsletter here. 
Copyright 2023 SuperTalk Mississippi Media. All rights reserved.