Image Above: U.S. Air Force Airman 1st Class Kevin Munoz, 81st Civil Engineer Squadron firefighter, Dave Cleland, 81st CES crew chief, and Jerry Krumnow, 81st CES fire truck mechanic, replace a tire on a fire truck at the fire station at Keesler Air Force Base, Mississippi, June 2, 2021. The Keesler Fire Department responds to medical emergencies on and around base 24 hours a day. (U.S. Air Force photo by Senior Airman Seth Haddix)
The following story was written by Senior Airman Seth Haddix, 81st Training Wing Public Affairs
---
Every year, the Keesler Fire Department responds to over 800 emergencies on or around Keesler. From fires, medical emergencies or aircraft issues, the fire department has embraced their mission to keep Keesler safe.
"We operate 24 hours a day, seven days a week and 365 days a year," said J.D. Donnett, 81st Training Wing installation fire chief. "We maintain multiple different elements: training, prevention, dispatch, management, combat operations, health and safety. We are always on stand-by for any type of situation."
Donnett said to help maintain the area effectively, Keesler and Biloxi fire departments support each other to ensure the capability of being able to respond to emergencies as needed. The partnership between the Keesler and Biloxi fire departments has grown stronger throughout the years.
"In any serious emergency, the law states that we must provide at least 13 firefighters on deck for offensive operations," said Donnett. "Both the Keesler and Biloxi fire departments provide each other with mutual aid. This allows us to meet the needs of different emergencies and work together during high risk events. We each bring different skill sets to the fight and protect the area effectively."
The fire station has 50 assigned personnel, with around 12 to 25 firefighters at the building at one time, ready for response. About half of the team is active duty military members and the other half is federal civilians, most prior military and with years of experience.
"We are with each other more than our own families," said Donnett. "This has become our second home. If you show up with a badge, we know what you have been through. We meld you right into the mission with everyone else."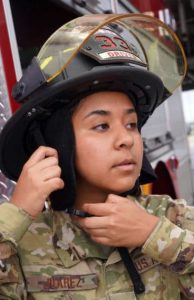 From the young Airmen to high-ranking officials, the fire station strives to progressively train and prepare their team.
"We are constantly heading to the training grounds and practicing with live fires to prepare ourselves as a team, which is a lot of fun," said Airman 1sts Class Cinthia Juarez, 81st Civil Engineer Squadron driver operator. "As a firefighter, the job is never accomplished by yourself. We have been able to come together, especially when responding to emergencies."
The Air Force continues to prepare and employ forces within this strategic environment to achieve national objectives. The Fire Department provides Keesler with safety and support to best accomplish the 81st Training Wing mission.
"Our overall mission goal is to maintain life, property and environment," said Donnett. "When we put our boots on the ground, excellence is not the goal; it's the standard. We live by that every day and continuously train to take care of our base and each other."
Stay up to date with all of Mississippi's latest news by signing up for our free newsletter here. 
Copyright 2023 SuperTalk Mississippi Media. All rights reserved.