Mississippi is just one step away from naming the state's gemstone as the Mississippi Opal, as the House unanimously passed Senate Bill 2138 on Thursday.
SB 2138 describes the state's opal as a "precious gemstone which shows brilliant flashes of fire, ranging from green to red."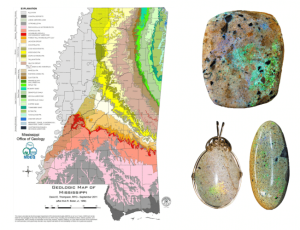 The Mississippi Opal is the only gem naturally produced within the state's geographical boundaries. The gemstone was first discovered during geological mapping of the Catahoula Formation in Claiborne County by the Mississippi Department of Environmental Quality, Office of Geology.
According to the bill, the opal was selected by the legislature because it "encourages pride in our state's rich natural heritage."
The House also introduced House Bill 772, which contains similar wording to SB 2138. At this time, the House's version of the bill remains in the Senate.
Now, the bill heads to the desk of Governor Tate Reeves, where he will decide whether or not to sign the state's official gemstone into law.
Stay up to date with all of Mississippi's latest news by signing up for our free newsletter here. 
Copyright 2023 SuperTalk Mississippi Media. All rights reserved.