The 10th Annual Empowering Communities for A Healthy Mississippi Conference will be kicked off by an event called "Let's Bike & Hike Mississippi."
Beginning this Saturday at 7:30 a.m. at 319 Meadowbrook Rd. in Jackson, in honor of May being High Blood Pressure Awareness Month, members of the public are invited to get a free blood pressure screening and COVID-19 vaccination courtesy of H.E.A.L Mississippi.
At 9:00 a.m., the family-friendly 5K bike and walk will begin on the recently paved Fondren trail. Those attending are encouraged to be active and motivated in line with the upcoming conference's theme: "Equity and Innovation: Paving the Path to a Healthier Mississippi."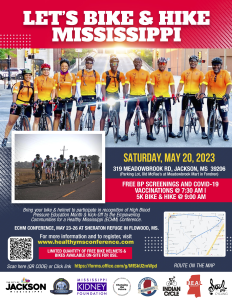 The Jackson Heart Study Community Engagement Center has teamed with partners to bring together bikers, hikers, walkers, and community members to promote physical activity in local neighborhoods.  
"I just want to encourage everyone to come out. Even if you don't want to bike and hike, come out and volunteer along the lines of helping cheer people on," Jacquilyn German with the MSDH told SuperTalk Mississippi News. "It's a great way to get back to the basics of being physically active — something as simple as getting your bike out, lacing up your tennis shoes, and coming on out."
A limited number of bike helmets will be handed out at the event, and some who may want to ride, but do not own a bicycle will be loaned one to use during the bike and hike.
German is encouraging residents to partake in this public outreach event aimed at creating an environment that promotes health in Mississippi neighborhoods.
"Do something great for your heart and take care of your heart," German added. "Getting out and getting involved with 'Bike & Hike' is a great way to take care of your heart, to get active, and to enjoy physical activities."
The Empowering Communities for A Healthy Mississippi Conference will take place at the Sheraton Refuge Hotel and Conference Center in Flowood from May 23-26. For more information, click here.
Stay up to date with all of Mississippi's latest news by signing up for our free newsletter here. 
Copyright 2023 SuperTalk Mississippi Media. All rights reserved.