Commissioner Andy Gipson has announced a promotional partnership between the Mississippi Department of Agriculture and Commerce (MDAC) and Mississippi State University.
The partnership is part of an initiative geared towards promoting Mississippi universities through MDAC's Bureau of Regulatory Services inspection stickers. Each sticker representing the divisions within the Bureau of Regulatory Services will feature the school colors of the chosen university for one year.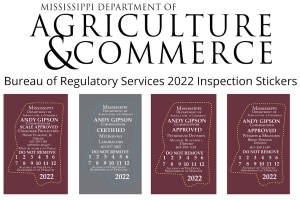 "We're proud to have Mississippi State University represented on our 2022 Bureau of Regulatory Services inspection stickers," Gipson said. "Our agency has enjoyed a long-standing partnership with MSU over the years. Not only is our Bureau of Plant Industry housed on MSU's campus in Starkville, but we also work closely with MSU's State Chemical Laboratory on petroleum industry matters and MSU Extension Service on a multitude of agricultural projects and events. I want to encourage the public to look for our new maroon and gray colored inspection stickers at various businesses across the state."
MDAC inspection stickers are awarded to ensure fairness and equity in the marketplace. In 2021 alone, the Bureau of Regulatory Services tested 11,431 scales and 56,314 devices found at gas stations.
Stay up to date with all of Mississippi's latest news by signing up for our free newsletter here. 
Copyright 2023 SuperTalk Mississippi Media. All rights reserved.