According to the Mississippi Department of Education, nearly three quarters of schools and 70% of districts will be rated C or higher when the Mississippi State Board of Education (SBE) approves accountability grades Thursday for the 2018-19 school year. The grades show a three-year trend of continuous school and district improvement.
The SBE set a goal in 2016 that all schools and districts be rated C or higher. Since that time, the percentage of schools meeting this goal has risen from 62.4% in 2016 to 73.5% in 2019. The percentage of districts meeting the goal has increased from 62.2% to 69.7%.
Over the same period, the number of schools and districts earning an A has more than doubled, with A-rated schools jumping from 88 to 196, and A-rated districts increasing from 14 to 31.
Among the 140 districts and five charter schools, 46 increased their letter grade from 2017-18 to 2018-19. Among the state's 877 schools, 258 increased their letter grade from last year.
"Mississippi schools and districts are achieving at higher levels each year, and their grades demonstrate how well they are serving the children in their classrooms," said Dr. Carey Wright, state superintendent of education. "I am extremely proud of our students and their families and every teacher, staff member, and leader who work hard every day in our schools and districts across the state. Together, families, communities, and educators are preparing students to be successful in college, the workforce, and life."
The percentage of schools and districts rated D or F dropped significantly since 2016, from 37.6% to 26.2% for schools, and 37.8% to 29.0% for districts.
Mississippi's A-F accountability system evaluates how well schools and districts are performing each year. Accountability grades are based, in part, on how well students perform and progress from year to year on the Mississippi Academic Assessment Program (MAAP) tests for English language arts (ELA) and Mathematics. These tests are aligned to the Mississippi College and Career Ready Standards and are administered annually to students in grades 3-8 and in high school. Overall, students showed statistically significant gains in both ELA and Mathematics from 2017-18 to 2018-19.
"Student achievement on MAAP reached an all-time high in 2018-19 because teachers are challenging students to achieve at a higher level," Wright said. "I am a firm believer that students can and will achieve more when they are challenged and supported by great teachers who help them meet higher expectations."
The statewide district and school grade comparisons from 2017-18 to 2018-19 are as follows: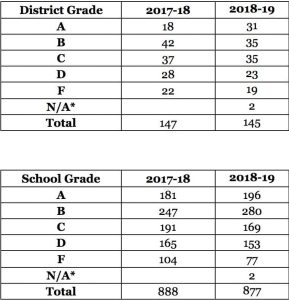 Among the 31 A-rated districts, nine districts earned an A for the first time in 2018-19: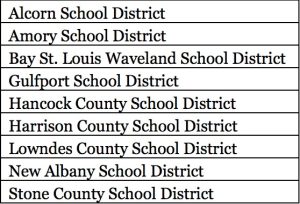 View the unofficial 2018-19 accountability results for schools and districts: https://www.mdek12.org/OPR/Reporting/Accountability
Stay up to date with all of Mississippi's latest news by signing up for our free newsletter here. 
Copyright 2023 SuperTalk Mississippi Media. All rights reserved.