Mississippi's graduation rate continues to climb and has reached an all-time high. 
Figures released by the Mississippi Department of Education show that the rate reached 87.7% in 2019-20, exceeding the nationwide rate of 85%. The rate for students with disabilities also reached an all-time high of 55.4%, more than double the rate of 23.2% in 2014.
Additionally, the statewide drop-out rate fell to a historic low of 8.8%, a decrease from 13.9% in 2014.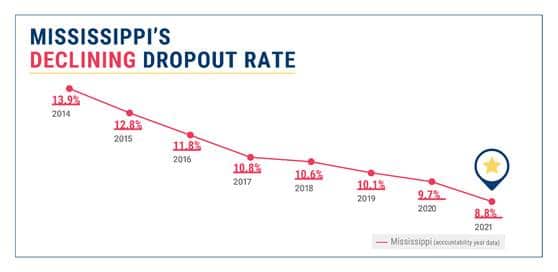 "Mississippi students are recognized nationally for the tremendous academic growth they have achieved in recent years," Dr. Carey Wright, state superintendent of education, said. "I am incredibly proud of our state's teachers, school leaders and parents, who have committed themselves to ensuring students complete high school prepared for college, postsecondary training, the military and the workforce."
Data was also released showing that the average ACT score for Mississippi juniors slightly increased from 17.6 in 2019 to 17.7 in 2020, however, just 10% met the benchmark scores for all four tested ACT subjects. Scores for Mississippi public school students who graduated in 2020 decreased from 18.1 to 17.9, and the percentage of students meeting all four benchmarks remained flat at 10%.
The national average ACT score for all students in the class of 2020, which includes public and private school students, was 20.6, down from 20.7 in 2019. MDE states that ACT scores nationwide have dropped in recent years as the population of students taking the test has broadened.
Stay up to date with all of Mississippi's latest news by signing up for our free newsletter here. 
Copyright 2023 SuperTalk Mississippi Media. All rights reserved.