The Simpson County Sheriff's Department has received the winning title of three local Christmas parade contests for the artistic work of a Mississippi Department of Corrections (MDOC) inmate.
Brian Dolan, who is currently serving 43 years for drug charges, created an 8-by-6-foot painted model of the county's century-old courthouse for the parade through the Joint State County Work Program. As a result of Dolan's work, the department won first place for parades in Mendenhall, Magee, and D'Lo with the theme of "Hometown Christmas."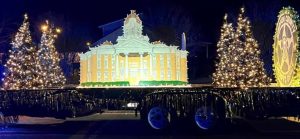 Dolan stated that the wins mean a lot to him as an affirmation of the skills that have improved his life. By channeling his creativity, Dolan says he has a renewed mindset and goal of not returning to prison.
"I was pretty proud when it was all done. I loved seeing the reactions from people who saw it. I was blown away when I heard that we had won all three parades," said Dolan, who has resided in Simpson County's inmate work program since January 2022.
Dolan continued, explaining that he was excited about the opportunity to participate in the department's parade float.
"The sheriff came to see me and wanted to know if I could draw the courthouse because they knew I could draw. I said sure, that I would give it my best shot. I had never done anything this big before," Dolan said.
According to Dolan, he worked approximately four to five hours every day and completed the project in two weeks.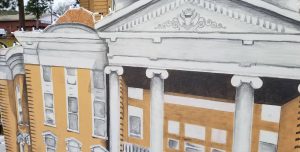 "I get to use my skills and talents as a rehabilitative tool," Dolan said. "It has given me motivation and skillsets that I can carry to a job. That is really what matters. Without that, I don't know if I would make it again. Now I see I can tackle a challenge, complete it, go through the step-by-step process without skipping steps. Learning from the process has really opened my eyes that I have another chance."
He added that if he is granted parole in 2026, he intends to stay in Simpson County and continue using his artistic abilities for the sheriff's department.
"You never know where art can take you. I have a new outlook on life and I feel like I have something to work for and look forward to. This time, it is going to be different."
Stay up to date with all of Mississippi's latest news by signing up for our free newsletter here. 
Copyright 2023 SuperTalk Mississippi Media. All rights reserved.