The Mississippi Department of Wildlife has released the hunting dates and bag limits for the 2019-2020 season.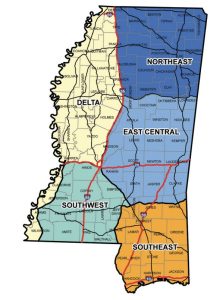 Dear archery season will open on October 1st and run through Nov. 22nd for the Delta, Northeast, East Central and Southwest zones, while the Southeast zone season will open on October 15th and run until November 22nd.
Gun season with dogs for all of the zones will begin on November 23rd and last until December 1st.
The bag limit on antlered buck deer is one buck per day, not to exceed three per annual season. One of these three may be any antlered deer on private land and Holly Springs National Forest. Legal bucks must meet the antler criteria within the appropriate deer management zone. For youth hunters, 15 years of age and younger, hunting on private land and authorized state and federal lands, all three of the three buck bag limit may be any antlered deer.
The bag limit on Northeast, Delta, East Central, and Southwest Zones antlerless deer is five per annual season. The bag limit on Southeast Zone antlerless deer is one per day, two per annual season. U.S. Forest Service National Forests: The bag limit is one per day, not to exceed five per annual season except in the Southeast Zone which is two per annual season/one per day
Fall turkey season will be open from October 15th to November 15th the bag limit is two turkeys. Click here for the full list of bag limits and dates from the MDWFP.
Stay up to date with all of Mississippi's latest news by signing up for our free newsletter here. 
Copyright 2023 SuperTalk Mississippi Media. All rights reserved.